Almond Pastry Twists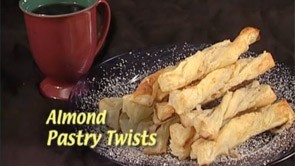 Print Friendly
Ingredients
1 puff pastry sheet
1/4 cup sliced almonds
1 tablespoon honey
2 tablespoons sugar
1 egg
1 tablespoon water
Preparation
Preheat oven to 400 degrees F.
Mix egg and water, and set aside.
Unfold thawed pastry on lightly floured surface. Roll into 14x10-inch rectangle.
Spread honey over entire sheet.
Cut in half lengthwise.
Top one pastry half with almonds.
Place remaining pastry half, egg-side down, over filling-topped half. Roll gently with rolling pin to seal.
Cut crosswise into 28 (1/2") strips.
Twist strips.
Place 2" apart on greased baking sheet, pressing down ends. Brush with egg mixture and sprinkle with sugar.
Bake 10 minutes or until golden.
Serve warm or at room temperature.
Makes 28.