Apple Blueberry Strudel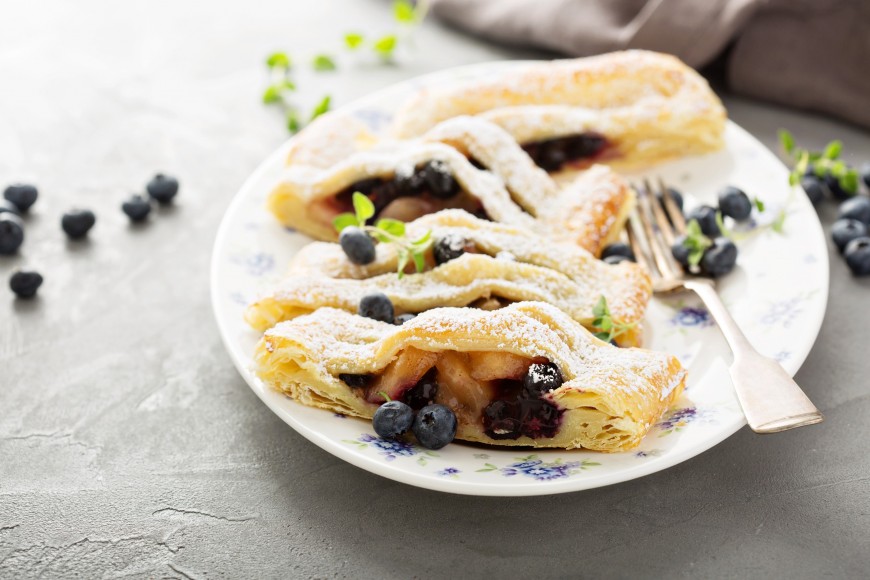 Print Friendly
Chef Jeanette, New England Culinary Institute
Ingredients
2 cups apples peeled, cored, and diced
1 cup blueberries
1/4 cup flour
1/2 cup sugar
1 teaspoon cinnamon
4 tablespoons butter
1/4 cup oatmeal
1/2 cup almonds
1/2 cup melted butter
6 sheets Phyllo dough (see note below)
Preparation
Mix flour, sugar, cinnamon, oatmeal, and almonds together.
Cut butter into mixture.
Toss with apples and blueberries.
Take one piece of phyllo dough and coat with melted butter. Repeat 3 times, layering sheets of dough.
Place half the mixture in a row on the phyllo dough and roll. Save other half for second strudel.
Coat with butter.
Bake at 450 degree F for 20-to-30 minutes, or until golden.
Serves 2.
Note: Thaw Phyllo dough in refrigerator until ready to use. Unfold and cover with a damp cloth. Never let Phyllo sheets get exposed to air for a long period of time.