Apple Cider & Vermont Maple Braised Duck with Apple, Bacon & Cheddar Risotto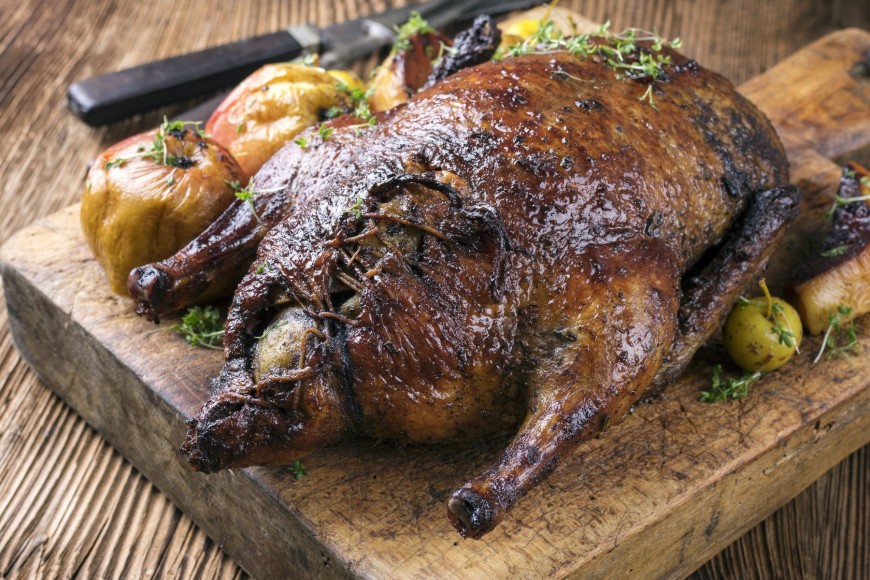 Print Friendly
Executive Chef Donnell Collins, Leunig's Bistro & Café, Burlington, Vermont
Duck Braising Liquid Ingredients
3 quarts apple cider
1 quart chicken stock
10 whole garlic cloves
4 shallots, chopped
4 ribs celery, chopped
2 medium onions, chopped
2 leeks, chopped
1 tablespoon whole black peppercorns
4 cinnamon sticks
1 cup apple cider vinegar
2 whole ducks
Braising Preparation
Remove wings from ducks (save for stock pot). Remove the neck and gizzards from the inside of the duck. Place ducks, with legs up in a stainless steel pot with the breast facing to the center of pot.
Once you have everything in the pot, place on stove and bring to a boil. Once at a boil, turn heat down to a simmer. Simmer Ducks for about an hour. DO NOT OVER OR UNDER COOK!!!!! Once the meat is pulling away from the leg bone, remove ducks and cool on sheet pan. Try not to damage the skin or break the ducks.
Apple, Bacon & Cheddar Risotto Ingredients
1 pound bacon
1 Spanish onion, chopped
1/4 cup garlic, chopped
1 leek, diced
1/2 bunch of fresh thyme, chopped
1 1/2 cups Arborio rice
1/2 cup white wine
Water
5 cups chicken stock
1 teaspoon nutmeg
1 teaspoon salt
1 teaspoon white pepper
1 1/2 cup grated extra-sharp cheddar cheese
10 leaves of sage, chopped
2 tablespoons butter, cubed
2 Macintosh apples, small dice
Risotto Preparation
Chop and render bacon till crispy in a medium rondo. Remove from pan, and set aside.
In same rondo, sweat the onion, garlic, leeks, and thyme.
Add the rice and toast on low heat. Add wine and simmer until the wine is absorbed and gone.
Mix water, chicken stock, and salt and set aside. Slowly add mixture to rice, 1 cup at a time, stirring with a spatula constantly. Continue till all the stock is gone and the rice is tender. Remove from heat, and add the bacon, cheese, sage, butter, and apples. Mix well.
Vermont Maple Cider & Rye Gravy Ingredients
1 quart of the duck braising liquid (from above)
1/4 bunch sage, chopped
1/4 bunch thyme, chopped
1 cup rye whiskey
1 cup heavy cream
1/2 cup smoked maple syrup
2 teaspoons pepper
1 teaspoon salt
Gravy Preparation
Reduce duck braising liquid by 1/2.
Strain, add the sage, thyme, rye whiskey, heavy cream, maple syrup, pepper, and salt, and reduce by 1/4.