Apple Meringue Crepes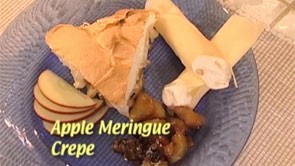 Print Friendly
Chef Roberta Blake, New England Culinary Institute (NECI)
Basic Crepe Batter Ingredients
1 cup flour
2 eggs
Pinch of salt (optional)
1 1/3 cups milk
2 tablespoons vegetable oil
Crepe Batter Preparation
Mix all ingredients until smooth, and refrigerate batter for one hour. After preparing the Apple Puree (recipe follows), prepare 16 5-inch crepes using the refrigerated batter.
Apple Puree Ingredients
8 crisp apples, peeled, cored, and cut into eighths
1/2 cup sugar
1/2 teaspoon cinnamon
3 tablespoons Calvados or apple brandy
Apple Puree Preparation
Place apples, cinnamon, sugar, and Calvados in a sauce pan and cook until a thick puree. Stir frequently so as not to burn.
Meringue Ingredients
4 egg whites
3/4 cup sugar
Meringue Preparation
In mixer, beat egg whites until foamy, gradually adding sugar. Beat until stiff and shiny, not dry.
Assembly
Brush 9x11-inch baking dish with melted butter.
Line baking dish with 4 overlapping crepes.
Spread with 1/3 apple puree, then a layer of crepes, then the apple puree. Continue to layer in this order, ending with crepes on top.
Use pastry bag with large star tip to pipe meringue over top of crepes.
Bake at 450 degrees F for 10-to-15 minutes.