Artichoke Salad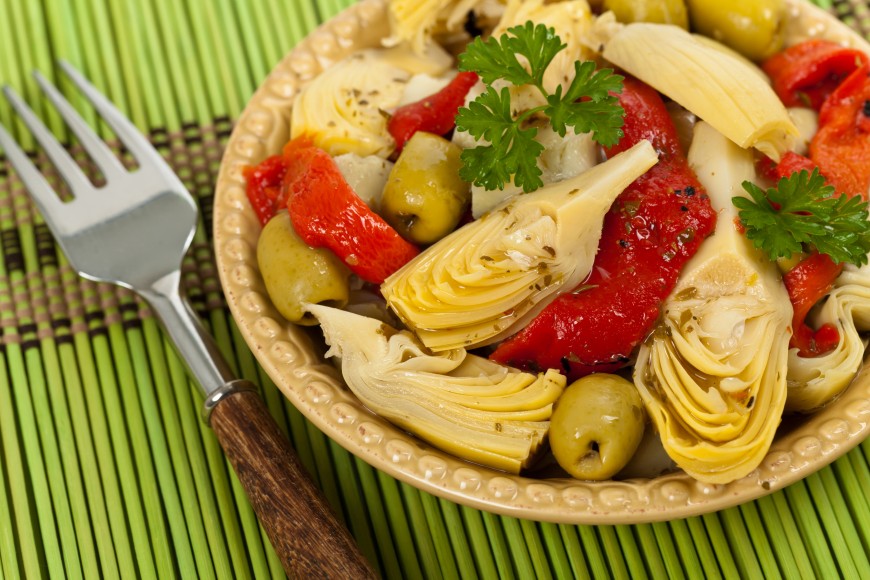 Print Friendly
Artichoke Salad Ingredients
1 red bell pepper, roasted
2 artichoke hearts, cut in quarters
1/2 medium sweet red onions, julienne
3 Kalamata olives, sliced in half
3 large green olives, sliced in half
Artichoke Salad Preparation
Mix all above ingredients together in a medium-size bowl.
Herb Vinaigrette for Artichoke Salad
1/3 teaspoons chopped rosemary
1/3 teaspoon chopped thyme
1/4 cup fresh basil, chiffonade
1/3 cup red wine vinegar
1/2 cup extra virgin olive oil
Salt and pepper, to taste
Herb Vinaigrette Preparation
Put above ingredients into a screw-top glass jar and shake well until all ingredients are mixed.
You may store in refrigerator for up to two weeks. Always shake well before serving.
Lemon Vinaigrette Ingredients
1/2 cup salad oil
1/3 cup fresh squeezed lemon juice
1 tablespoon clover honey
1/2 teaspoon paprika
1/4 teaspoon dry mustard
Fresh ground black pepper, to taste
Lemon Vinaigrette Salad Preparation
Place fresh mix salad greens on plate, and drizzle with lemon vinaigrette.
Garnish with your favorite Italian meats.