Asparagus & Mushroom Stuffed Crepes with Sherry Cream Sauce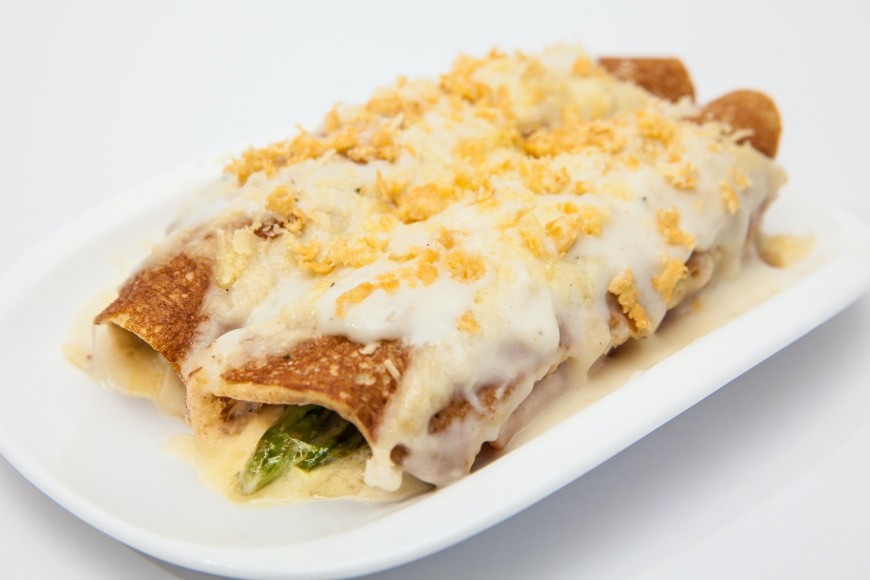 Print Friendly
Chef Allen McEdward, Gracie's Restaurant, Stowe Vermont
Basic Crepes Ingredients
3 large eggs
1 1/2 cups milk
4 tablespoon butter, melted
2/3 cup all purpose flour
1/2 teaspoon salt
Crepes Preparation
In a blender, mix together eggs, milk, 2 tablespoon of melted butter, and salt until smooth. Transfer batter to bowl; cover, refrigerate at least one hour.
Place 8-inch non-stick skillet over medium high heat. Add some of the remaining butter.
Pour 1/4 cup of batter into skillet. Cook both sides until lightly browned. Repeat process with remaining batter.
Stack crepes with a layer of wax paper in between each one.
Crepe Filling Ingredients
2 cups water or chicken stock
Juice of 1 lemon
1 bunch asparagus
2 cups quartered mushrooms
3 tablespoons butter
1 cup heavy cream
4 tablespoons flour
1 small shallot
1/2 cup diced leeks or ramps
2 oz. dry sherry
Salt and pepper, to taste
Filling Preparation
Pour 2 cups of water or chicken stock in a small saucepot with the juice of 1 lemon. Heat to a low boil.
Place 1 bunch of chopped asparagus and 2 cups of quartered mushrooms into the liquid, and blanch for about 3 minutes or until the asparagus is slightly tender. Strain the asparagus and mushrooms, reserving the liquid.
On low heat, melt 2 tablespoons of butter in small saucepan. Add 4 tablespoons of flour, and stir together forming a roux. Add 1 cup of the reserved liquid and 1 cup of heavy cream to the roux, and whisk vigorously. Continue to cook the sauce for about 5 minutes, or until the flour has had a chance to cook out. Add more of the reserved liquid if sauce becomes too thick.
Place medium size sauté pan on medium heat. Add 1 tablespoon of butter and mushrooms and asparagus with 1 small minced shallot and 1/2 cup diced leeks or ramps. Sauté for about 2-to-3 minutes. Add salt and pepper to taste. Add 2 oz. dry sherry and flame. Cook until sherry has almost completely evaporated. Add cream sauce until the mixture is bound together, but not soupy.
Place crepes on a level surface, and spoon filling equally on each. Roll up the crepe, making sure the filling does not spill out of either end.
Place the crepes on a greased sheet pan and cover with gruyere cheese (optional). Place in a 350 degree F oven for 5-to-10 minutes.
Plate with remaining sauce and parsley sprig.
Makes 8 crepes.