Asparagus Tart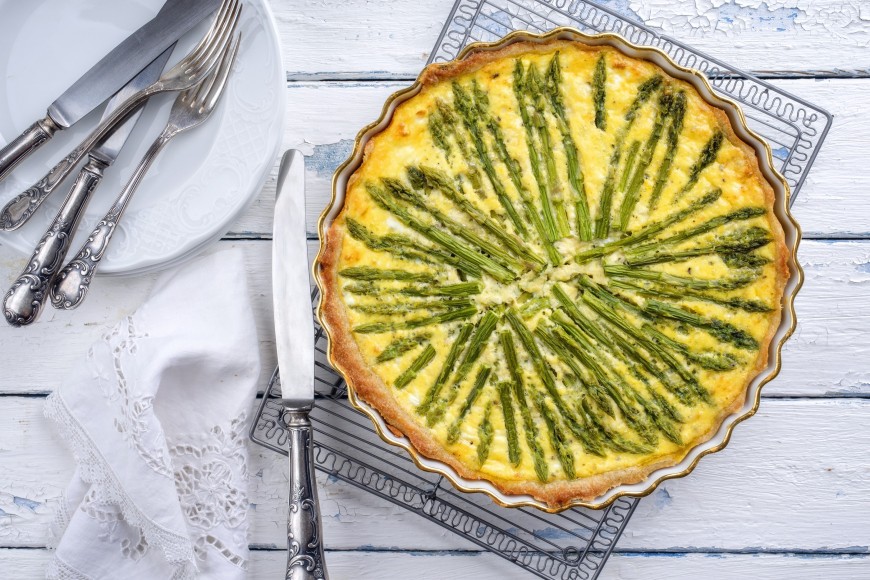 Print Friendly
Annie Copps, Yankee Magazine
Ingredients
2 tablespoons unsalted butter, divided
2 onions, thinly sliced
1 1/2 bunches asparagus, sliced in half lengthwise if they are thick
Flaky Tart Dough (see recipe below)
Kosher or sea salt and freshly ground black pepper
1 tablespoon unsalted butter
4-to-5 oz. ricotta salata cheese (substitute with feta, Parmigiano Reggiano, or blue cheese)
Preparation
In a medium saute pan over medium heat, cook onions in 1 tablespoon of butter until softened and translucent, stirring often, about 15 minutes; do not brown. Remove from heat and cool to room temperature.
Heat oven to 400 degrees.
Trim asparagus to 4-inch long pieces, discard bottoms. If using asparagus more than 1/3-inch thick, slice in half lengthwise.
Roll out tart dough to fit a 9 x 9-inch tart pan (with removable bottom).
Line bottom and sides of pan with a 1/4-inch thick layer of dough. Trim and discard excess.
Make a layer of onions on bottom.
Make two rows of asparagus (tips pointing in), nestling as many as will fit neatly.
Season with salt and pepper.
Cut remaining butter into small pieces and scatter on top of asparagus.
Bake 30 minutes.
Remove from pan and slide onto small cutting board.
Using a vegetable peeler, slice cheese and place on tart.
Serve warm.
Total time: 1 hour 15 minutes; active time: 30 minutes
Flaky Tart Dough Ingredients
1 1/8 cups flour
1 1/2 teaspoons sugar
1/4 teaspoon salt
1/4 cup cold water
8 tablespoons cold unsalted butter
Flaky Tart Dough Preparation
Place the flour, sugar, and salt in a food processor fitted with a steel blade and pulse to combine.
Add butter and pulse a few times, until butter is about the size of a pea.
Add half the water and pulse.
Add remaining water 1tablespoon at a time, pulsing, just until the dough comes together.
Form a ball and wrap in plastic and place in refrigerator for 20 minutes (or freeze up to 3 months)
Total time: 30 minutes (does not include baking); active time: 10 minutes