Baklava with Honey Glaze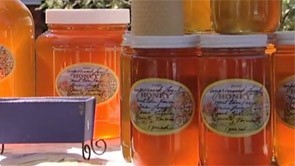 Print Friendly
Ingredients
1-1/2 pounds of walnuts, chopped
1/2 cup of granulated sugar
1/2 teaspoon cinnamon
1/8 teaspoon ground cloves
40 sheets fillo dough
1 cup butter, melted
Honey
Preparation
Combine walnuts, sugar, cinnamon, and cloves.
Brush a 12x17-inch baking pan with butter.
Place 8 buttered fillo sheets on bottom.
Sprinkle with 1/3 of walnut mixture.
Place 8 more buttered fillo sheets on top, then 1/3 more walnut mixture.
Top with another 8 buttered fillo sheets and remaining walnut mixture.
Finish baklava with another 16 fillo sheets and brush with remaining butter.
With a very sharp knife, score fillo into 1-1/2" diamonds or squares.
Bake in preheated 350 degrees F oven for 45-60 minutes or until golden brown.
Cool slightly.
Drizzle warm honey evenly over baklava.
Makes about 80 pieces.