Barolo Braised Lamb Shanks with Cambazola Polenta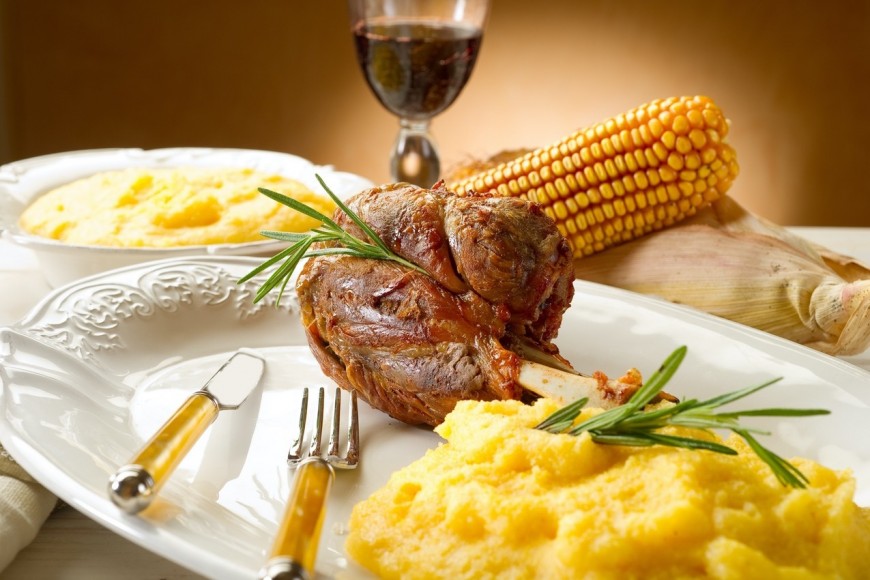 Print Friendly
Sarducci's Restaurant, Montpelier, Vermont
Ingredients
4 medium lamb shanks
2 tablespoons flour
3 tablespoons olive oil
12 Cipollini onions
3 large carrots, large dice
2 celery stalks, large dice
1 10-oz. can diced tomatoes
2 cups low-sodium beef broth
3 cups red wine
6 cloves garlic
3 each rosemary and thyme sprigs
1 teaspoon black peppercorns
1 teaspoon fennel seed
1 bay leaf
Salt and pepper, to taste
Preparation
Preheat oven to 325 degrees F.
Sprinkle lamb with salt, pepper, and flour.
Heat 2 tablespoons of oil in large ovenproof pot over high heat. Add lamb and brown on all sides.
Transfer lamb to plate, and add remaining oil and all vegetables, and sauté while removing fond from bottom of the pan. After stirring 2 minutes, deglaze with red wine.
Place lamb into vegetable mixture and add herbs, peppercorns, tomatoes, and beef broth. Bring to simmer, cover the pot with a lid, and transfer to oven. Cook, turning once, until meat separates easily from the bone, about 2 hours.
While lamb is cooking, prepare the gremolata (recipe follows).
Gremolata Ingredients
1 teaspoon orange zest, minced
1 teaspoon lemon zest, minced
2 teaspoon parsley, chopped
1 teaspoon garlic, minced
Gremolata Preparation
Combine zests with garlic and parsley. Place to side.
Polenta Ingredients
6 cups milk
1 tablespoon butter
1 cup cornmeal
3 sage leaves, minced
1/2 teaspoon salt
4 oz. Cambazola, rind removed, and cubed
Polenta Preparation
Thirty minutes before the lamb is ready, start the polenta. Bring milk, butter, sage, and salt to a simmer. Turn the heat down to low and gradually whisk in the cornmeal and stir occasionally until the polenta thickens and becomes tender. Stir in the Cambazola and melt.

To Serve
Remove cooked lamb from pot and skim fat away. At this point, you can serve everything as is or remove vegetables as well and tighten the stock by reducing over high heat.
Arrange polenta into four bowls with a lamb shank on top.
Add braising liquid and vegetables, and top with gremolata.