Bedeviled Eggs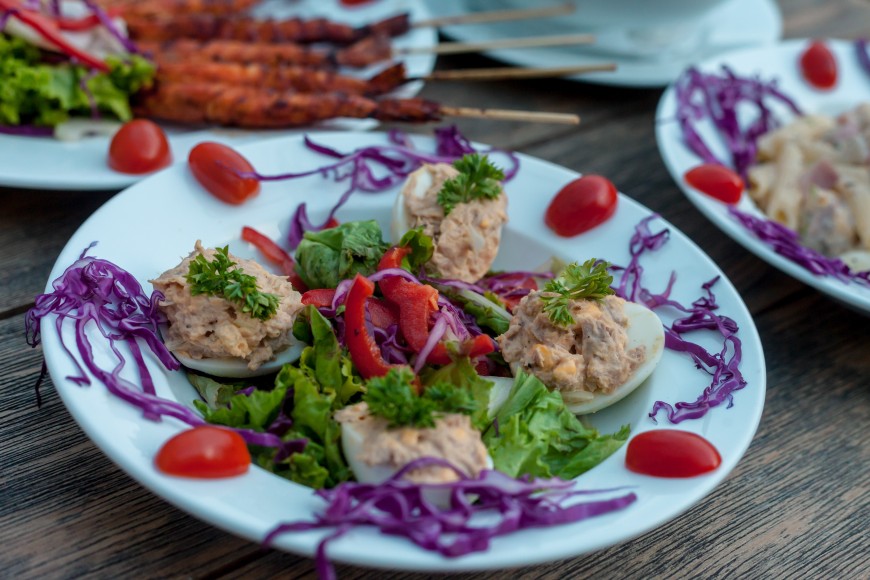 Print Friendly
Annie Kopps, Yankee Magazine
Ingredients
1/4 pound fresh tuna, finely chopped
1/2 rib celery, finely chopped
1 scallion, white and green parts, trimmed, and finely chopped
2 tablespoons olive oil
1/2 teaspoon curry powder
Mayonnaise
1 tablespoon chopped parsley
6 black olives, pitted and finely chopped
6 hard boiled eggs, split in half vertically, yolks separated and mashed
Kosher or sea salt and freshly ground black pepper, to taste
Garnish: 6 black olives, pitted and finely chopped; and chives (about 6 finely chopped or 12, cut into 3-inch pieces)
Preparation
In a small sauté pan over medium high heat, cook tuna, celery, and scallions in oil until the scallion is softened, about 3 minutes.
Remove from heat and stir in curry.
In a medium bowl, combine tuna mixture with mayonnaise, parsley, olives, and yolks. Season to taste with salt and pepper.
Season egg whites with salt and pepper, and fill centers with a heaping spoon of filling, or fill a pastry bag with filling and "pipe" into individual egg whites.
Top with chopped olives and chive.
Makes 1 dozen.