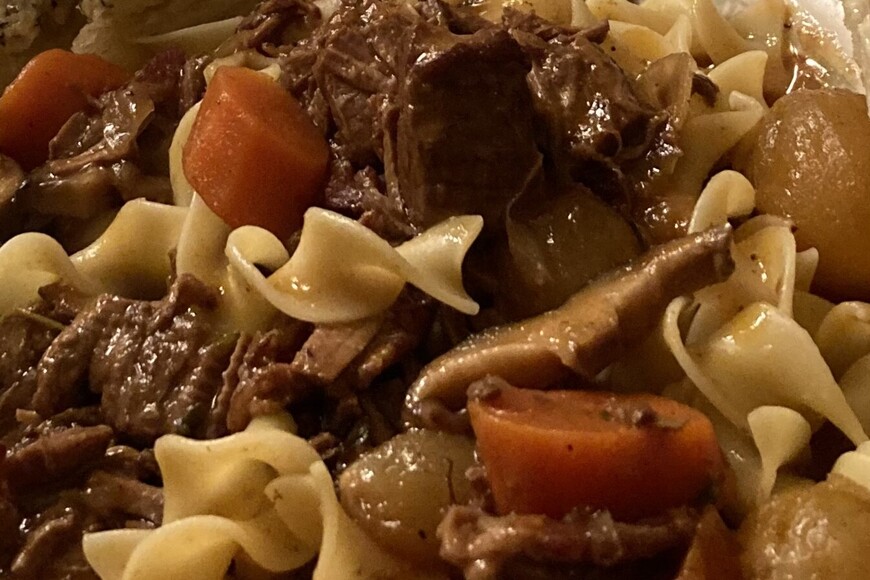 Print Friendly
Sandy Zielinski, New England Cooks Co-Host.
Beef Bourgoine
This is my go-to recipe when I'm having company in the cold-weather months. The best feature, aside from the wonderful flavors, is that you make it the day before, leaving you to visit and enjoy your friends.
1 (3-pound) filet of beef, trimmed
Kosher salt and freshly ground black pepper, for seasoning plus 1 teaspoon salt and 1/2 teaspoon pepper
3 to 4 tablespoons good olive oil
1/4 pound bacon, diced
2 garlic cloves, minced
1 1/2 cups good dry red wine, such as Burgundy or Chianti
¼ cup brandy
2 cups beef stock
1 tablespoon tomato paste
1 sprig fresh thyme
1/2 pound pearl onions, peeled
8 to 10 carrots, cut diagonally into 1-inch-thick slices
3 tablespoons unsalted butter at room temperature
2 tablespoons all-purpose flour
1/2 pound mushrooms, sliced 1/4-inch thick (domestic or wild)
Directions
With a sharp knife, cut the filet crosswise into 1-inch-thick slices. Salt and pepper the filets on both sides. In a large, heavy-bottomed pan on medium-high heat, saute the slices of beef in batches with 2 to 3 tablespoons oil until browned on the outside and very rare inside, about 2 to 3 minutes on each side. Remove the fillets from the pan and set aside on a platter.
In the same pan, saute the bacon on medium-low heat for 5 minutes, until browned and crisp. Remove the bacon and set it aside. Drain all the fat, except 2 tablespoons, from the pan. Add the garlic and cook for 30 seconds.
Deglaze the pan with the red wine and cook on high heat for 1 minute, scraping the bottom of the pan. Add the beef stock, tomato paste, thyme, 1 teaspoon salt, and 1/2 teaspoon pepper. Bring to a boil and cook uncovered on medium-high heat for 10 minutes. Strain the sauce and return it to the pan. Add the onions and carrots and simmer uncovered for 20 to 30 minutes, until the sauce is reduced and the vegetables are cooked.
With a fork mash 2 tablespoons butter and the flour into a paste and whisk it gently into the sauce. Simmer for 2 minutes to thicken.
Meanwhile, saute the mushrooms separately in 1 tablespoon butter and 1 tablespoon oil for about 10 minutes, until browned and tender.
Add the filet of beef slices, the mushrooms, and the bacon to the pan with the vegetables and sauce. Cover and reheat gently for 5 to 10 minutes. Do not overcook. Season, to taste, and serve immediately.