Belgian Steamed Mussels & Garlic Aioli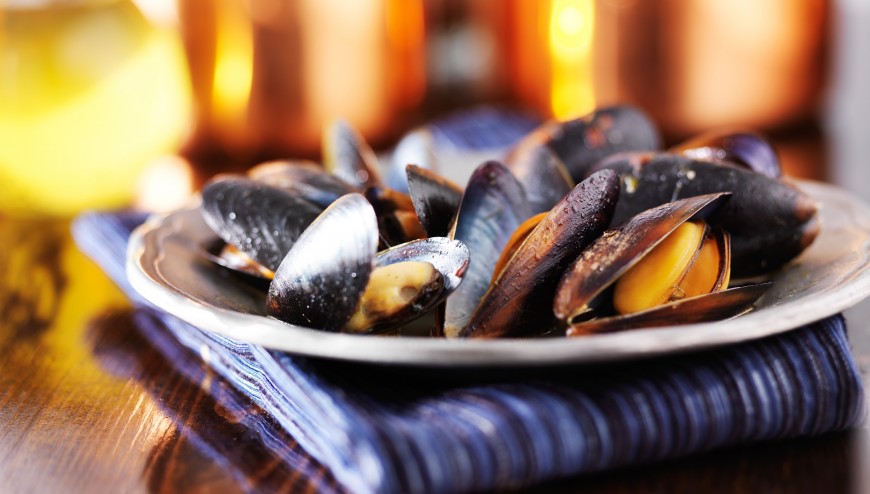 Print Friendly
Chef Jeffrey Lang, The Alchemist, Waterbury, Vermont
Ingredients
1 lb. cleaned PEI mussels
1 tablespoon finely diced shallots
1 tablespoon chopped garlic
2 tablespoons high fat butter
Salt and pepper, to taste
1 pint of Belgian-style Wit Bier
Preparation
Lightly brown butter in a large sauté pan over medium high heat. Add garlic and shallots and cook 1-2 minutes until shallots soften.
Add mussels and season with salt and pepper. Toss for 1-to-2 minutes.
Add the pint of beer and cover. Steam until all of the mussels are opened.
Toss mussels in steaming liquid and cook for an additional 1-to-2 minutes.
Garnish with garlic aioli (recipe follows), fresh chopped parsley, and slices of seeded baguette.
Garlic Aioli Ingredients
2 egg yolks
1 tablespoon lemon juice
Salt and pepper, to taste
+/- 1 cup canola oil
2 cloves garlic
1 tablespoon roasted garlic
Aioli Preparation
In food processor, combine egg yolks, garlic, roasted garlic, lemon juice, salt, and pepper. Spin in the food processor for 30 seconds.
With the food processor still running, slowly drizzle in the canola oil until the aioli is slightly thicker than commercial mayonnaise and completely smooth.