Berry Shortcake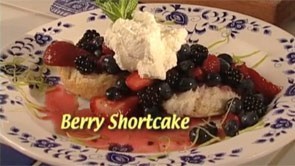 Print Friendly
Ingredients
1 quart strawberries, hulled and cut in quarters
1 pint blueberries
1 cup raspberries
1 cup blackberries
1 oz. tequila
1 cup sugar
1 lime, zested (for garnish) and juiced

Preparation
Follow Bisquick mix package directions.
In medium sized mixing bowl, mix strawberries, blueberries, raspberries, blackberries, tequila, sugar, and lime together. Let fruit mixture sit for at least 30 minutes.

Whipped Cream Ingredients
1 cup heavy cream
2 tablespoons confectioners' sugar
1 teaspoon vanilla
Whipped Cream Preparation
Mix heavy cream, confectioners' sugar, and vanilla together with mixer or whisk until stiff.
Serve fruit mixture over biscuits.
Top with whipped cream.