Bijou Apple and Kale Cigar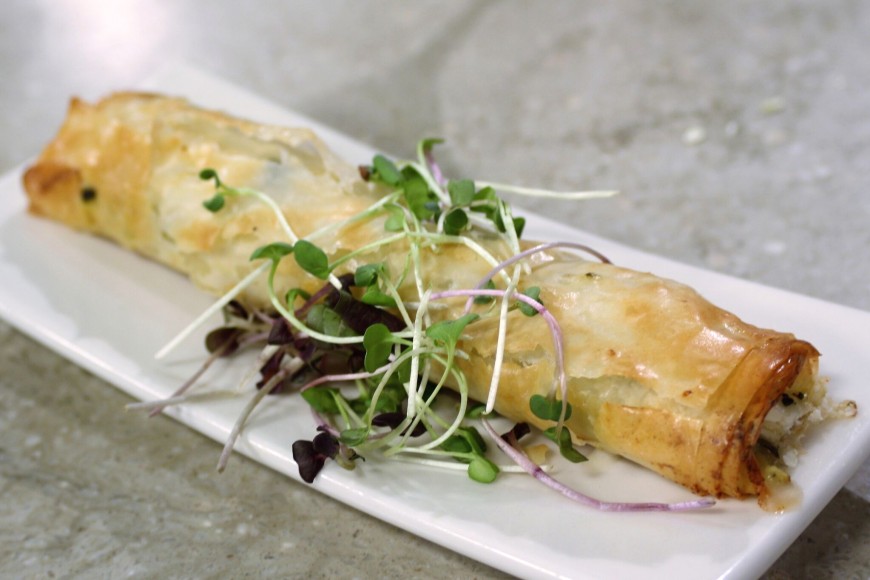 Print Friendly

Chef Jean-Louis Guerin, New England Culinary Institute

Ingredients
2 cup chopped kale
1 cup chopped spinach
1 cup feta, crumbled
1 Vermont Creamery Bijou
1/2 cup diced and roasted green apple
1 teaspoon chopped garlic
2 teaspoon shallot, small diced
4 sheets phyllo dough
Vermont sea salt butter
Preparation
Sweat shallot and garlic in butter until tender and blond.
Add kale, and cook until tender.
Add spinach and feta. Toss and season.
Lay out one sheet of phyllo dough and brush with butter to all edges (be sure to cover phyllo pile with damp towel to keep moisture level).
Repeat three times.
Lay out kale/cheese mix, roasted apple, and sliced Bijou. Roll tightly into a cylinder shape. Brush with butter to avoid unrolling.
Freeze, if necessary
Cook at 375 degrees F for approximately 20 minutes.
Serve hot with a small herb salad mix with slices of strawberry.
Chef's Note: Can be prepared in advance and frozen. Double plastic wrap is recommended.