Black Pepper Teres Major with Blue Cheese and Bacon Cream Sauce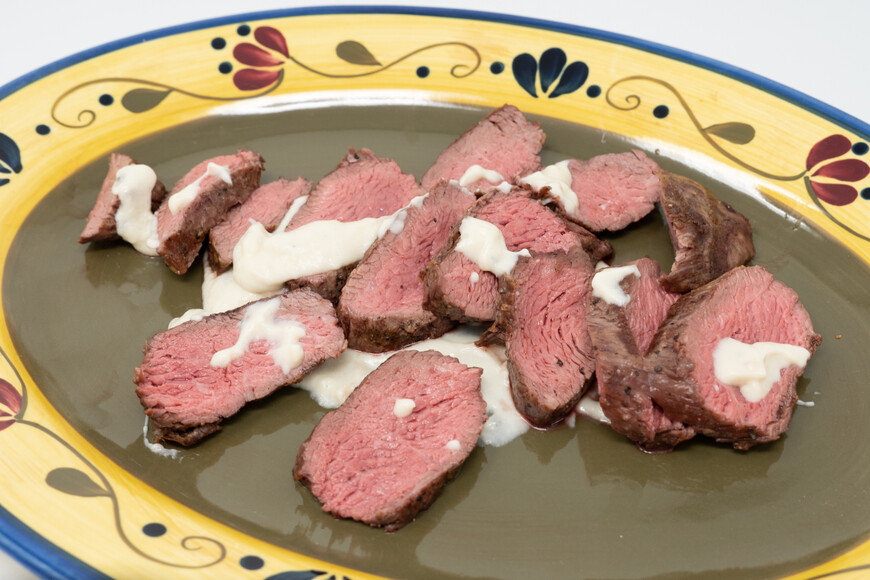 Print Friendly
Ingredients
· 2 teres major steaks (approximately 0.5 lb each)
· kosher salt
· cracked black pepper
· 1 tablespoon unsalted butter
· 1 tablespoon flour
· 1 cup whole milk
· 2 oz. Maytag blue cheese
· 2 slices thick-cut bacon (cooked and crumbled)
Instructions
1. Season both sides of the teres major steaks liberally with Kosher salt. Refrigerate steaks for 1 hour. Remove steaks from the refrigerator and allow them to come to room temperature. Prepare grill for high-heat cooking, approximately 500°F. Season both sides of the steaks with cracked black pepper and additional salt.
2. Grill steaks for 4–5 minutes per side until they reach an internal temperature of 130°F for medium rare.
3. Remove the steaks from the grill and close the grill's bottom vents to lower the temperature to approximately 350°F.
4. Place a small skillet on the grill and add the butter. Once the butter has melted, add the flour and stir to make a paste. Add the milk and allow it to come to a boil. Once the sauce has thickened (approximately 2–3 minutes), stir in the blue cheese and crumbled bacon then add salt and cracked black pepper to taste.
A shoulder tender also called beef shoulder petite tender, beef shoulder tender petite roast, bistro filet, teres major steak is a US cut of beef of the teres major muscle from the blade of the shoulder (chuck).