Boneless Buffalo Wings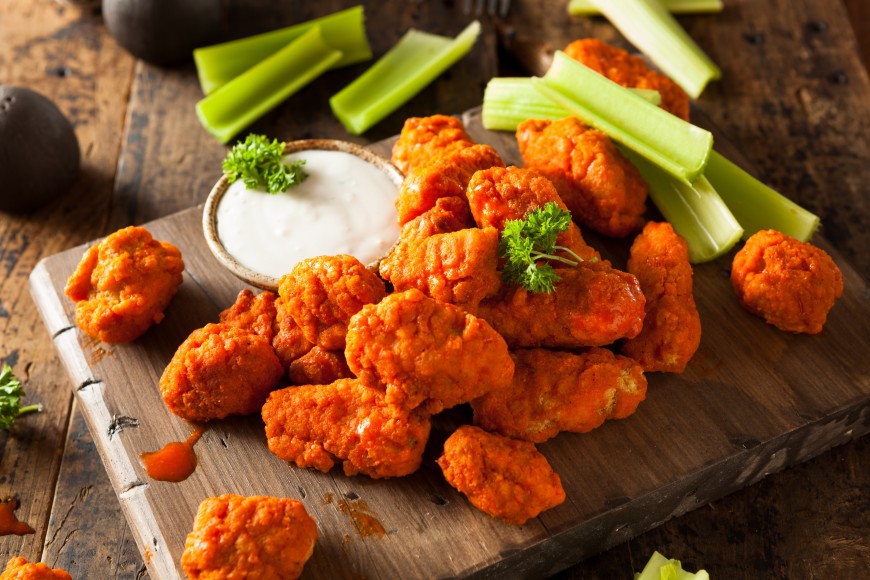 Print Friendly
Eating Well Magazine
Ingredients
3 tablespoons nonfat buttermilk
3 tablespoons hot pepper sauce, such as Frank's Red Hot, divided
3 tablespoons distilled white vinegar, divided
2 pounds chicken tenders
6 tablespoons whole wheat flour
6 tablespoons cornmeal
1/2 teaspoon cayenne pepper
2 tablespoons canola oil, divided
2 cups peeled carrot sticks
2 cups celery sticks
Spicy Blue Cheese Dip
Preparation
Whisk buttermilk, 2 tablespoons hot pepper sauce, and 2 tablespoons vinegar in a large bowl until combined. Add chicken; toss to coat. Transfer to the refrigerator and let marinate for at least 10 minutes or up to 1 hour, stirring occasionally.
Meanwhile, whisk flour and cornmeal in a shallow dish.
Whisk the remaining 1 tablespoon hot sauce and 1 tablespoon vinegar in a small bowl.
Remove the chicken from the marinade and roll in the flour mixture until evenly coated. (Discard remaining marinade and flour mixture.) Sprinkle both sides of the chicken with cayenne.
Heat 1 tablespoon oil in a large nonstick skillet over medium-high heat. Add half the chicken, placing each in a little oil. Cook until golden brown and cooked through, 3-to-4 minutes per side. Transfer to a serving platter. Repeat with the remaining 1 tablespoon oil and chicken, reducing the heat if necessary. Transfer to the platter. Drizzle the chicken with the reserved hot sauce mixture.
Serve with carrots, celery, and Spicy Blue Cheese Dip.
Sink your teeth into these spicy chicken breast tenders instead of the traditional, skin-on buffalo wings. We've dramatically cut the saturated fat and sodium in this Super Bowl party favorite and added a generous serving of crunchy vegetables with a lighter version of blue cheese dip.
Serves 8 (2 "wings," 1/2 cup vegetables & 2 tbsp. dip each). Per serving: 257 calories; 10 g fat (4 g sat, 4 g mono); 83 mg cholesterol; 13 g carbohydrate; 31 g protein; 2 g fiber; 382 mg sodium; 257 mg potassium. nutrition bonus: Vitamin A (120% daily value), Calcium (10% dv).