Broccoli Cheddar Soup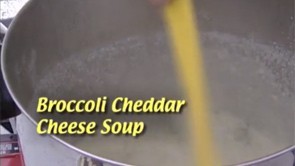 Print Friendly
Recipe courtesy of Cabot Creamery
Ingredients
2 tablespoons Cabot salted butter
2 cups peeled and diced boiling potatoes, (about 2)
1/2 cup chopped onion
2 tablespoons all-purpose flour
1 can chicken broth (14 1/2 oz.)
2 cups milk
3 cups broccoli (chopped florets and thinly sliced stems)
2 cups (lightly packed) grated Cabot Sharp or Extra Sharp Cheddar Cheese
1 teaspoon fresh lemon juice
Salt and pepper, to taste
Preparation
In a large saucepan, melt butter over medium heat. Add potatoes and onion and stir until the onion is tender, about 5 minutes.
Add flour and cook, stir for 2 minutes longer.
Stir in chicken broth and milk. Bring to a simmer and cook until the potatoes are nearly tender, about 5 minutes.
Add broccoli and cook until the broccoli is tender, about 5 minutes longer.
Remove from the heat and stir in cheese.
Add lemon juice and season with salt and pepper.

MARINATED CHEESE & OLIVES
Ingredients
8 oz. Cabot Extra Sharp Cheddar Cheese
2 oz. salami
1/4 cup extra light olive oil
2 tablespoons fresh squeezed lemon juice
1 medium clove garlic, minced
1/4 teaspoon fennel seed
1/4 teaspoon fresh ground pepper
1 can (6 oz.) black pitted ex-large ripe olives, drained
Preparation
Cut cheese and salami into 1/2 inch cubes.
In a bowl, whisk together lemon juice, garlic, fennel seed, virgin olive oil.
Grind in pepper to equal 1/4 teaspoon.
Fold in cheese, salami cubes, and drained olives.
Cover bowl and chill up to 3 days, letting ingredients marinate. Stir occasionally to help combine flavors.
Before serving, let stand at room temperature for about 45 minutes.
Present this munchie in a clear glass bowl and offer toothpicks for serving.