Brochettes of Asparagus and Scallops on Shrimp Risotto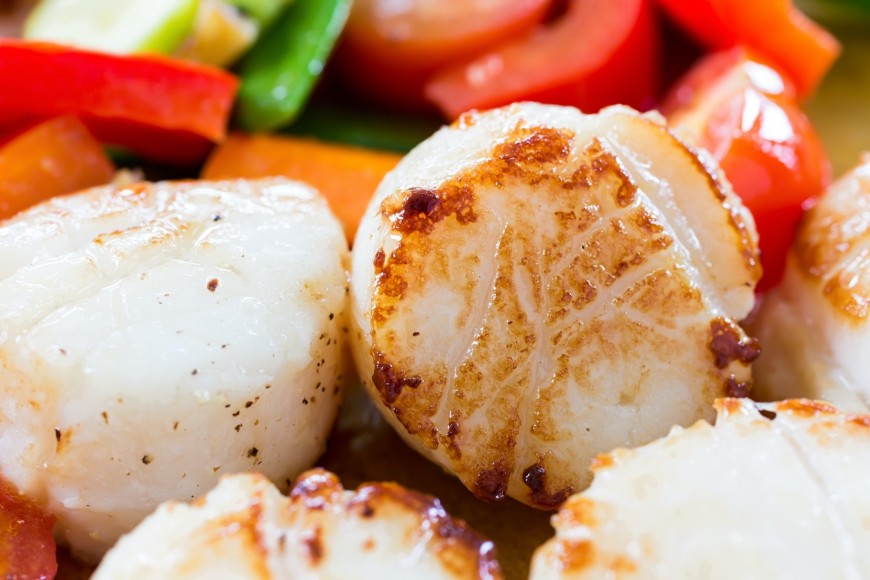 Print Friendly
Chef Robert Barral, Café Provence, Brandon, Vermont
Brochette Ingredients
1 bunch asparagus
2 scallops
2 cups Arborio rice
1 shallot
2 oz. olive oil
3 oz. butter
2 cups heavy cream
1/2 cup Parmesan cheese
2 cups vegetable stock
12 shrimps
Vinaigrette (recipe follows)
Preparation
Blanch the asparagus in a pot of boiling water. With a wooden skewer, make a hole in the scallops from one side to the other. Remove the skewer and replace by the asparagus. Place 2 scallops on each asparagus if they are large enough. Reserve in the cooler until cooking time.
Make the risotto: In a saucepot, sweat the chopped shallots in olive oil, and then add the Arborio rice. Mix well, then start to add gradually the vegetable stock, until the rice is cooked and has absorbed all the liquid. At the end, add the heavy cream, Parmesan cheese, butter, and sautéed diced shrimps. The leftover asparagus are sliced and added to the risotto as garnish.
Cook the scallops: Use a Teflon pan to cook the scallops. Place salt and pepper on both sides. Wait until the oil is smoking hot to place the brochettes of scallops in the pan. Let them cook for a few minutes, then flip them around and finish the cooking on the other side for another couple of minutes.
Vinaigrette Ingredients
1 shallot
12 shrimp shells
2 tomatoes
1/2 cup basil
1/2 cup balsamic vinegar
1/2 lemon, juice
Vinaigrette Preparation
Sauté the shallot in a pan with oil until translucent. Add the shrimp shells and the diced tomato, and deglaze with white wine. Reduce the wine half way down, then add one cup of vegetable stock. Boil for 10 minutes, add salt and pepper, then pour the liquid in a blender. Add the remaining diced tomatoes, pulse a few times, and add the olive oil and the lemon juice while the blender is going. Finish with the addition of chopped basil, and taste for the seasoning.
To plate, place the risotto on the center of the plate with the scallops arranged on top. Pour the vinaigrette on the outside of the dish. Drizzle a few drops of balsamic reduction on top of the scallops. Serve hot.
Serves 4.