Bruschetta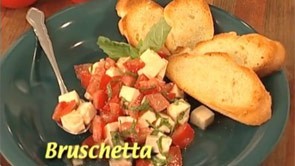 Print Friendly
Ingredients
6 tomatoes
2 balls of fresh mozzarella
2 sprigs fresh basil
1 teaspoon minced garlic
1 tablespoon balsamic vinegar
2 tablespoons olive oil
1 baguette
Preparation
Dice tomatoes.
Cut mozzarella into cubes.
Chiffonade the basil (roll basil to form a tube, and slice thinly).
In medium bowl, mix tomatoes, mozzarella, basil, garlic, and balsamic vinegar.
Cut baguette into thin slices. Brush with a mixture of olive oil and garlic, and toast under broiler or in toaster oven, until golden brown.
Top toasted baguette slice with tomato/mozzarella mixture.