Buttermilk-Biscuits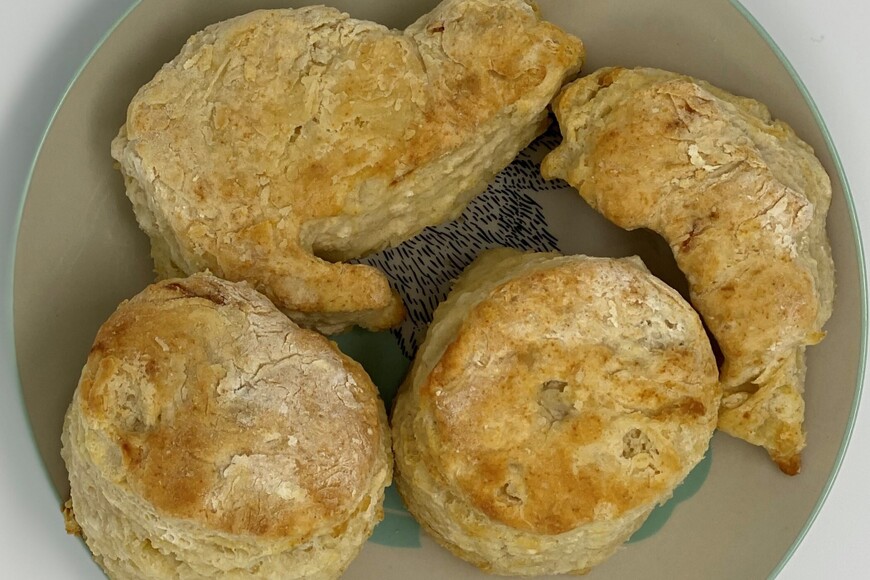 Print Friendly
Big Buttermilk Biscuits
5 cups flour
2½ teaspoons baking powder 1¼ teaspoons baking soda
1 teaspoon salt
12 tablespoons (1½ sticks) unsalted butter, well chilled 2½ cups buttermilk
-Set the oven to 450 degrees. Grease a baking sheet or line it with baking parchment.
-In a large bowl, stir together the flour, baking powder, baking soda, and salt. Cut the butter into small pieces and distribute throughout the flour. Then using a pastry blender or your fingers, mash the butter into the flour until the mixture is the consistency of coarse cornmeal. (You can also do this with a food processor.)
-Add the buttermilk and mix briefly, just until all the dry ingredients are incorporated into the dough. Overmixing will make the biscuits tough.
-Turn the dough out onto a well-floured surface and knead it briefly, working in a bit more flour so that it is not totally sticky. Pat it out to a thickness of 1 ½ to 2 inches. Cut with a round or square cookie cutter, about 3 ½ inches, or the rim of a large drinking glass.
-Place the first biscuit at the center of the prepared baking sheet. Nestle the other biscuits around the first one so sides are touching. Bake for 15 to 20 minutes, or until golden brown.
-Remove from oven and allow to cool somewhat. Break them apart into individual biscuits and serve warm.
Yield: 8 or 9 big biscuits.