New England Butterscotch Pudding and Oatmeal Lace Cookie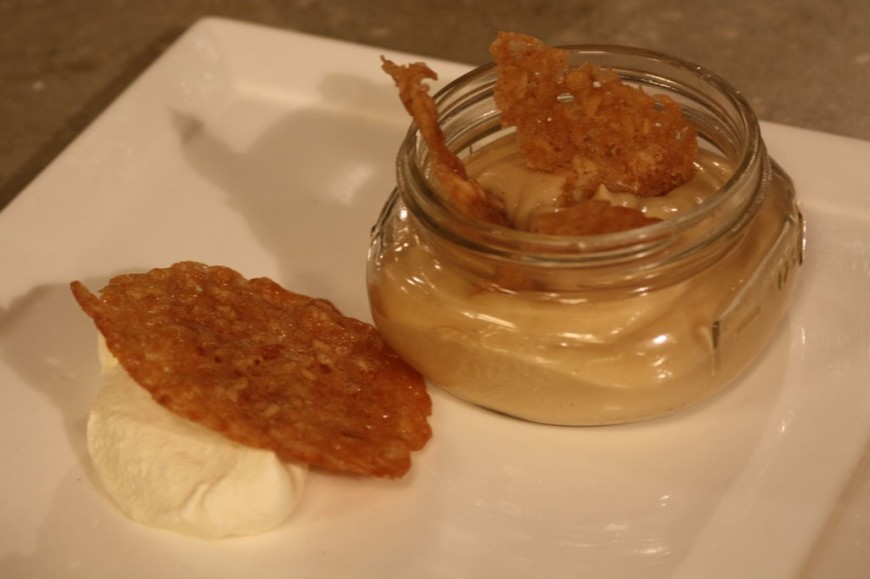 Print Friendly
Butterscotch Pudding Ingredients
2 1/4 cup whole milk
1 cup heavy cream
1 vanilla bean (split)
6 tablespoons butter
1 1/4 cup brown sugar
4 egg yolks
1/4 cup cornstarch
1 pinch salt
Butterscotch Pudding Preparation
In a medium-size pot, bring the milk, cream, and vanilla bean to a boil and remove from heat.
In another medium-size pot, add the butter and brown sugar, and caramelize until golden brown.
Whisk in the cream and milk mixture to the brown sugar/butter mixture, and blend until combined.
In a medium-size mixing bowl, add the egg yolks, salt, and corn starch and blend, temper half of the sugar/cream mixture, then return all to the same pot.
Cook over medium heat until thick (whisking constantly), remove from heat, discard the vanilla bean, spoon in to serving bowls, and chill.
Note: Butterscotch sauce is similar to caramel, except that you replace the white cane sugar with brown sugar
Makes 1 quart.
Oatmeal Lace Cookie Ingredients
1/2 cup all-purpose flour
1/4 teaspoon baking powder
1/2 cup white sugar
1 teaspoon ground cinnamon
1/2 cup rolled oats
2 tablespoons light corn syrup
1/3 cup melted butter
2 tablespoons heavy cream
1 tablespoon vanilla extract
Oatmeal Lace Cookie Preparation
Sift together flour, baking powder, sugar, and cinnamon.
Add oatmeal, light corn syrup, melted butter, cream, and vanilla. Blend well.
Drop on silpat or ungreased cookie sheet using 1/2 tablespoon as a measure.
Bake in 375 degrees F (190 degrees C) oven for 5-7 minutes.
Let stand a few seconds before removing from pan.
Note: Be careful, as these cookies will burn quickly.
Makes 2 dozen cookies.