Callebaut Chocolate Truffle Torte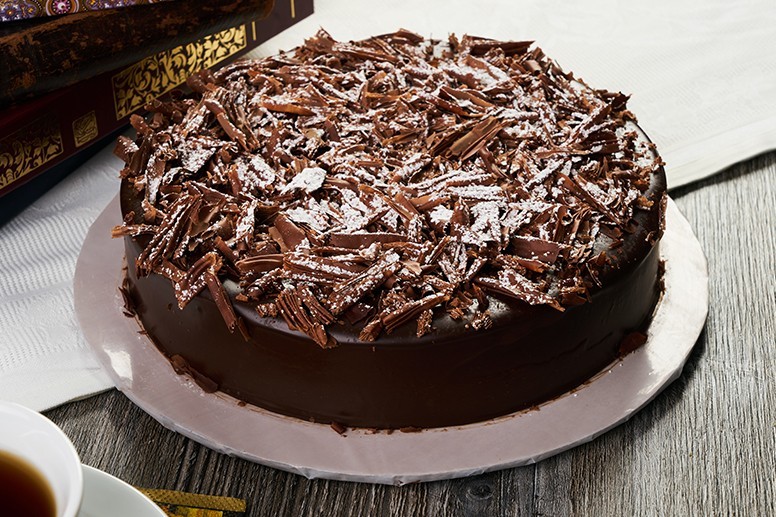 Print Friendly
Michael's on the Hill
Ingredients
1 pound bittersweet chocolate, chopped into small pieces
1/2 pound unsalted butter, room temperature
6 large eggs, room temperature
1 tablespoon butter, unsalted
1 piece parchment paper, cut into an 8-inch round
Heavy duty aluminum foil
Preparation
To prepare the pan, rub 3/4 tablespoon of butter all over the inside of an 8-inch spring form pan. Lay the round of parchment into the pan and rub the remaining tablespoon of butter over the parchment. The butter should be rubbed into a thin, clear layer.
Double wrap the outside of the pan with the foil to keep the water from the water bath away from the torte. Place the spring form pan into a roasting pan, to create a double boiler.
Butter a 10-inch piece of aluminum foil and set aside.
Preheat oven to 400 degrees F.
Crack room temperature eggs into a mixing bowl and beat on high speed until they triple in volume and make soft peaks.
Melt chocolate and butter until smooth in large bowl set over pot of hot water. Don't let water touch bowl or boil. Reserve the hot water. When the chocolate is melted, remove from hot water and allow to slightly cool.
Pour the egg mixture into the chocolate mixture, and with a paddle attachment, mix on the lowest speed until just incorporated. Be very gentle, as to not lose air. Scrape into prepared pan and smooth.
Place the pan onto the oven rack, and carefully pour hot water into the roasting pan 1/3 of the way up, making sure not to get water onto the torte.
Cook in the oven for 5 minutes, and then cover the torte loosely with buttered foil and bake for 10 more minutes. This will allow the torte to just set. It will look a little soft, and that's correct. It will harden once it cools.
Remove torte carefully from the water bath and cool on a rack for at least 45 minutes. Then cover with Saran wrap and chill for 3 hours.
To Unmold
Wipe sides and bottom with a hot, damp towel, run a thin metal spatula around sides, invert, remove parchment, reinvert onto a serving platter, and chill until ready to serve.
Cut the torte with hot knife, wiping between cuts.
For a more fudgy consistency, serve straight from the refrigerator. For a more delicate mouth feel, serve at room temperature.
Note: In the winter, we like serving this rich cake with a fresh citrus salad made from blood oranges and tangelos!
Makes 1 torte (8 inches).