Cauliflower Soup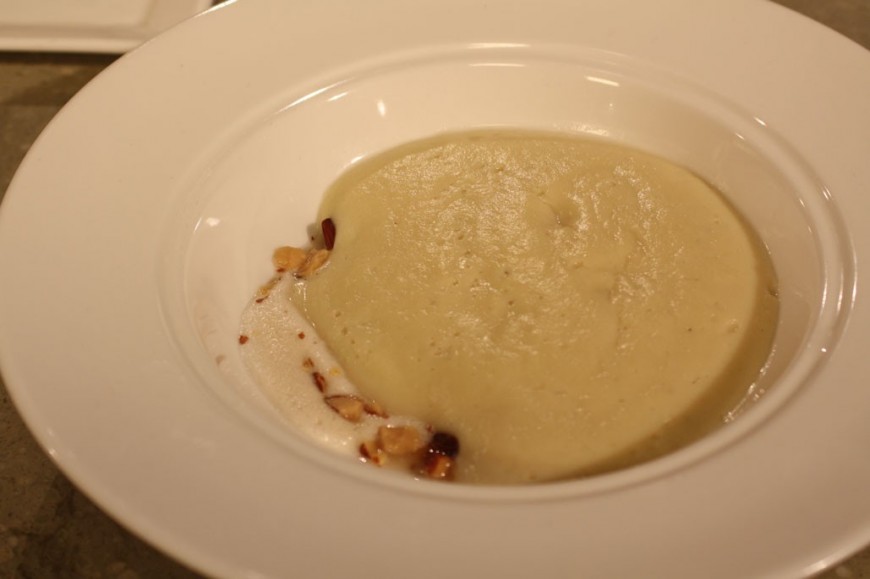 Print Friendly
Ingredients
5 lb. white cauliflower
3 lb. potato
1 white onion
Chicken stock*
4 oz. butter
1 cup heavy cream
Salt, white pepper
Preparation
Cut the cauliflower, potato, and onion into medium size pieces and place in a large heavy bottom pot. Use enough chicken stock to cover the vegetables and cook on medium heat until tender. Strain off the stock in to another pot, reserve.
Place half of the cooked vegetables in a blender and add enough stock to blend the mixture smooth (you may not use all of the stock). Transfer the blended soup back to the pot you cooked them in. Repeat the process with the other half of the soup.
Stir in the butter and cream. Season the soup with salt, pepper.
Strain through a fine mesh sieve. Reserve hot.
Note: If you would like to make this soup vegetarian, use water instead of chicken stock.
BURNT HONEY FOAM
Ingredients
1/2 oz. VirsaWhip (www.willpowder.com)
8 oz. honey
Preparation
Using a standing mixer with a whisk attachment, add both ingredients and whip for 5 minutes.
The honey mixture will become thick and have the consistency of shaving cream. Place in a small piping bag, reserve.
APRICOT PUREE
Ingredients
1 cup dried apricots
3 cups water
Preparation
Bring the apricots and water to a simmer. Cook until the apricots are very tender.
Blend in a blender until very smooth.
Transfer to a small squeeze bottle or small piping bag.
Cool completely.
To Serve Soup:
Pipe three small mounds of the honey foam in a wide bottom soup bowl.
Using a kitchen blow torch or the broiler of your oven, brown the foam like you would a marshmallow for s'mores.
Add a small amount of apricot puree around the bowl. Sprinkle some crushed smoked almonds, and some fresh chopped herbs.
To serve, pour the soup table side so your guests can see the garnish in the bottom of the bowl.
Cauliflower Soup paired well with Blue Point Toasted Lager and Rioja Vetiver, Apricot Puree, Burnt Honey Foam, and Smoked Almonds
Serves 8-10.