Ceviche de atún (Tuna ceviche)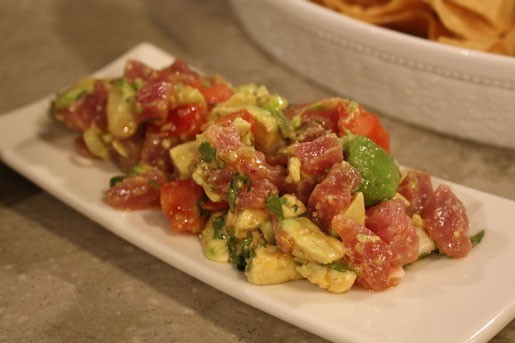 Print Friendly
Jack Pickett, Phoenix Table & Bar
Ingredients
1/2 lb. sushi-grade yellow fin tuna
Juice of 2 limes
2 ripe, but slightly firm, Haas avocados, scooped and cut into ¾-inch cubes
2 ripe tomatoes, cut into 3/4-inch cubes
2 scallions, sliced thinly
1/2 cup roughly chopped fresh cilantro
Chili Vinaigrette (recipe follows)
Salt, to taste
Tortilla chips
Preparation
Skin and cube the tuna into the same size cubes as the tomatoes and avocados.
Squeeze lime juice on the tuna, add a pinch of salt, toss, and add the avocado, tomato, scallions, and cilantro.
Dress lightly with the vinaigrette and serve with chips.
Chili Vinaigrette Ingredients
1 chipotle adobo mashed (chipotle in tomato)
Juice of 1 lime
1/4 cup olive oil
1 clove garlic mashed with a teaspoon of salt
Preparation
Mix the oil and lime together, add half of the mashed salt and garlic, and half of the chipotle. Blend well and check for seasoning. Add more garlic or chipotle, to taste. Stir well.
Serve or refrigerate up to one week.