Cheddar Cheese Cold Pack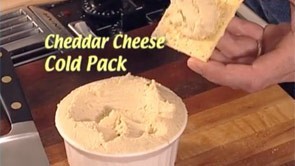 Print Friendly
Ingredients
1 pound cheddar cheese
1 tablespoon powdered garlic (not fresh)
1 teaspoon horseradish
1 tablespoon Worcestershire sauce
4-to-5 tablespoons butter
Preparation
Cut the cheddar cheese into 1-inch cubes and put into food processor bowl.
Add powdered garlic, horseradish, Worcestershire, and butter. You may need to adjust the amount of butter depending on moistness of the cheddar.
Pulse on medium speed for 1-to-2 minutes, or until the cheese mixture reaches a smooth, but firm, consistency.
Remove from processor bowl with a rubber spatula and pack into ramekins.
Serve on crackers or with fresh vegetables, or cover and store in refrigerator for your next party.
This cheddar cheese cold pack also makes a superb homemade gift.