Cheesy Broccoli Soup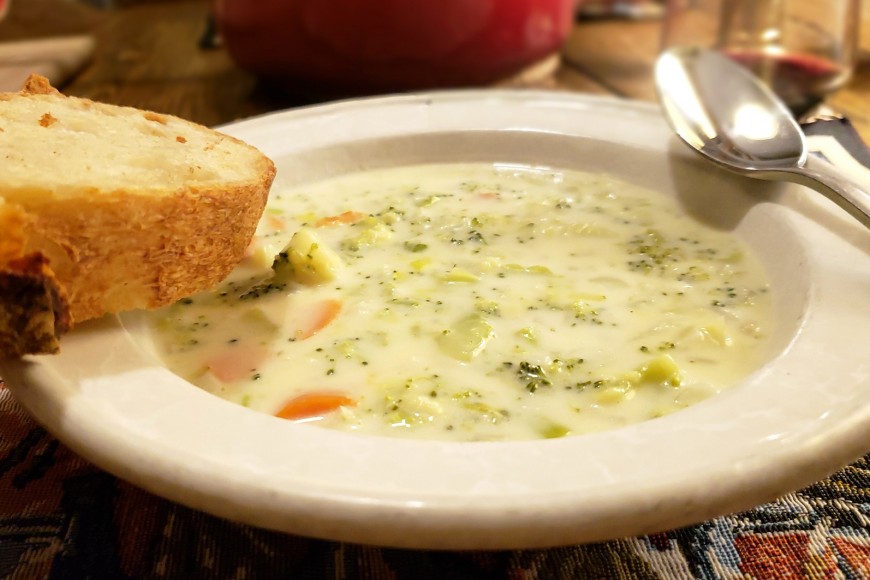 Print Friendly
Avery Wright, Food Enthusiast
Ingredients
1 pound fresh broccoli, washed, drained, and cut into small, uniformly sized pieces
2 large carrots, washed, drained, and cut into small, uniformly sized pieces
2 cups vegetable broth
4 tablespoons butter, unsalted
2 celery ribs, washed, drained, and minced
2 leeks, washed, drained, and minced
4 scallions, minced
3 shallots, minced
6 cloves garlic, minced
1/2 teaspoon freshly grated nutmeg
4 tablespoons flour
3 cups whole milk
3 cups grated sharp cheddar cheese
1-4 cup sherry or Marsala wine
Preparation
Bring vegetable broth to a boil. Add broccoli and carrots, return to a boil, and cook for 10 minutes. Remove from heat and set aside. DO NOT DRAIN.
Turn the heat under a Dutch oven to medium high and add butter. When milk fat has mostly disappeared, add celery ribs, leeks, shallots, and scallions. Sauté until golden brown, 7-8 minutes. Add garlic and cook for 1 minute more.
Combine flour and nutmeg and sprinkle over sautéed mixture, stirring until onion mixture is thoroughly coated. Continue stirring for two minutes, making sure flour/onion mixture does not burn.
Add milk, one cup at a time, and continue stirring until the mixture becomes thick and begins a constant bubble. Cook for 2 more minutes.
Remove from heat and add cheese, 1/2 cup at a time, until thoroughly melted.
Stir in the sherry.
Stir in the broccoli and carrots, including their cooking liquid.
Return to heat until warmed through.
Serve with a mixed salad and crusty bread.