Chicken Breasts with Red Pepper Puree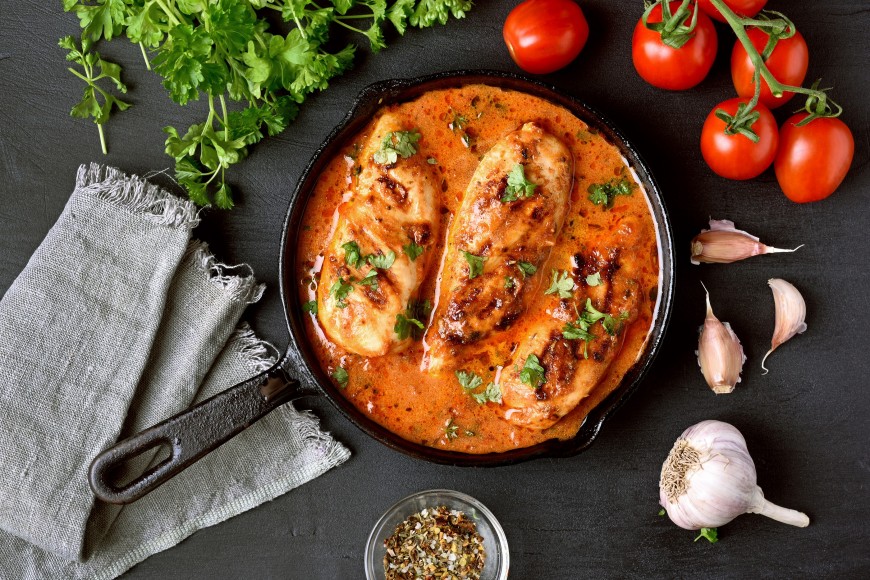 Print Friendly
Blueberry Hill Inn, Goshen, Vermont
Marinade Ingredients
3/4 cup olive oil
3 tablespoons fresh lemon juice
1/2 teaspoon salt
Freshly ground black pepper
3 tablespoons balsamic vinegar
6 tablespoons Dijon-style mustard
6 cloves garlic, minced
1/4 cup chopped fresh basil

Marinade Preparation
Mix all of the marinade ingredients together.
Chicken Preparation
8 boneless, skinless, chicken breast halves
8 fresh basil leaves, for garnish
Place the chicken breasts in a glass baking dish. Pour the marinade over the breasts.
Cover and refrigerate at least 4 hours. Spoon the marinade over the breasts 2-to-3 times during this period.
About one hour before cooking time, remove the baking dish from the refrigerator and bring it to room temperature.
Preheat the oven to 350 degrees F.
Bake the chicken, uncovered, in the marinade for about 30 minutes. While the chicken is baking, prepare the Pepper Puree sauce.
Pepper Puree Ingredients
2 large sweet red peppers
1/4 cup heavy cream
Salt and freshly ground black pepper, to taste
Pepper Puree Preparation
Core and seed the red peppers and cut in large slices.
Steam them 10 minutes or until tender.
Drain the peppers and puree them in a food processor fitted with a steel blade.
Place the puree in a heavy saucepan over medium heat.
Bring to a low simmer and add the heavy cream.
Add salt and pepper, to taste.
To serve, spoon the hot puree over each chicken breast and garnish with a fresh basil leaf.
Serves 8.
Makes a wonderful summer meal or brunch.