Chicken Quesadillas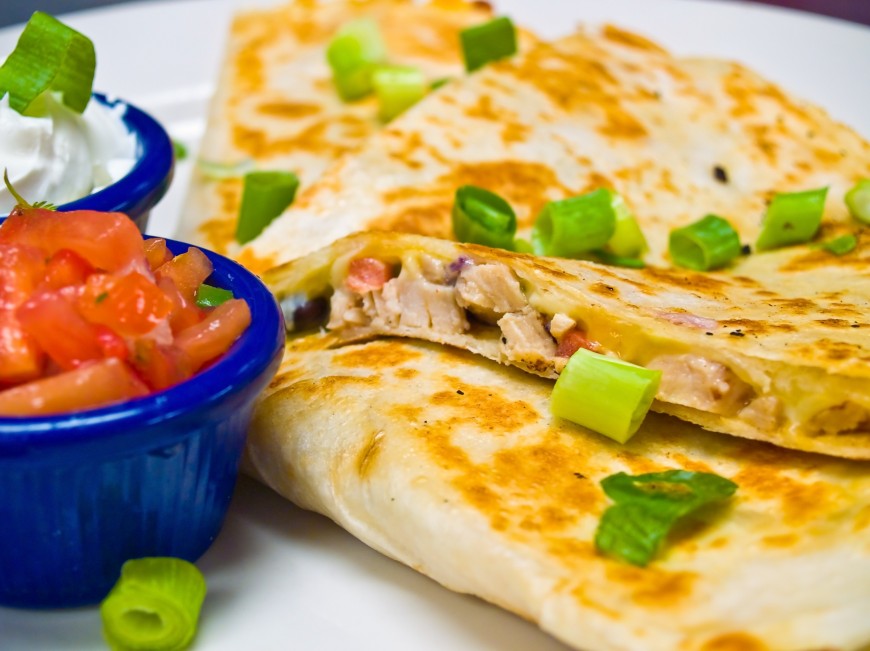 Print Friendly
Ingredients
6 flour tortillas (6")
1 smoked chicken breast, sliced (available at specialty food shops and many supermarkets)
8 oz. package pepper jack cheese, shredded
1 cup onion, caramelized
Preparation
To pan fry tortillas, brush large skillet with oil. Place a tortilla in hot pan.
While tortilla is cooking on medium heat, immediately cover with onion, chicken, and 1/2-cup pepper jack cheese.
Place another tortilla on top, and flip. Allow to cook about 4 minutes total, or until cheese is melted.
Cut in wedges, and serve with salsa from a jar, or make homemade (recipe follows).

Salsa Ingredients
2 tomatoes, seeded and chopped
1/2 Bermuda onion, chopped
1/2 green pepper, seeded and chopped fine
1 1/2 teaspoons vinegar
1/2 teaspoon sugar
1/2 teaspoon salt
1 garlic clove, chopped
Fresh spring cilantro
Salsa Preparation
Put all ingredients into a bowl. Mix well.
Cover, and let sit on counter for at least an hour, stirring every once in a while
Before serving, add a sprinkling of cilantro, fresh or dried.