Chocolate Cherry Inferno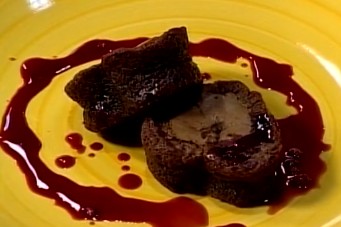 Print Friendly
Chef Michelle Lunde, Delicate Decadence, Barre, Vermont
Ingredients
4 oz. bittersweet chocolate, chopped
3 oz. unsalted butter
1 1/2 tablespoon cornstarch
5 oz. granulated sugar
2 large eggs
2 large egg yolks
3/4 teaspoon Kirschvasser cherry liqueur
Handful of dried tart cherries, soaked in the Kirschvasser
Preparation
Over double boiler, melt chocolate and butter (be careful not to let it get too hot).
In medium bowl, combine cornstarch and sugar. When melted, add the butter and chocolate mixture with a whip.
Crack all the eggs together and whip into the warm chocolate mixture.
Add Kirschvasser, and chill for about an hour.

In flexiform heart-shaped pan, scoop 2 oz. of the chocolate mixture.
Next push a couple of the kirsch-soaked cherries halfway into the mix.
Bake at 375 degrees F for 15-to-20 minutes, until the outside is firm and leaving the inside still a bit molten.
Serve dusted with confectionery sugar and port wine pink peppercorn sauce (recipe follows).
Can be made 1-to-2 days in advance.

PORT WINE PINK PEPPERCORN REDUCTION
Ingredients
1 bottle of Warre's or Taylor Fladgate Porto
2 tablespoons peppercorns, cracked
Lemon juice
Preparation
In small sauce pot reduce half-to-3/4 bottle of port to half.
Add peppercorns and continue to reduce to syrup.
Add lemon to taste.
Drizzle plate with reduction around the inferno.