Holiday Cheese Balls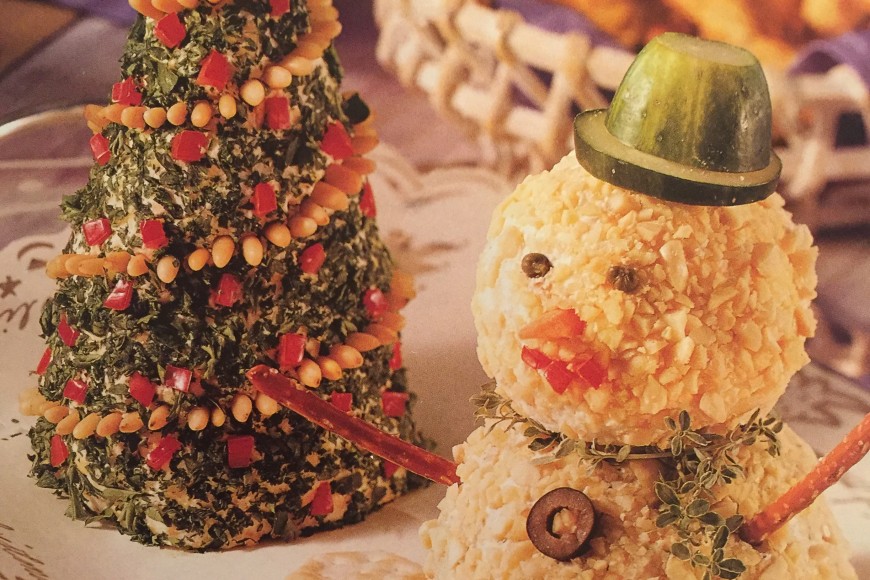 Print Friendly
Recipe courtesy Sandy Zielinski, New England Cooks Co-Host
CHRISTMAS TREE CHEESE BALL
Main Ingredients
3 packages (8 oz. each) cream cheese, softened
4 cups shredded cheddar cheese (16 oz.)
2 tablespoons pesto
1 tablespoon grated onion
1/4 teaspoon of dry ground mustard
2-or-3 drops red pepper sauce
Decoration Ingredients (have ready at serving time)
1/4 cup finely chopped parsley
1/4 cup pine nuts
2 tablespoons chopped red bell pepper
Assorted crackers
Preparation
Mix together cream cheese and cheddar cheese. Add the pesto, onion, mustard, and red pepper sauce.
Divide mixture in half and refrigerate about 4 hours, or until firm enough to shape.
Place cheese mixture on cookie sheet. Shape each half into a cone shape to look like a Christmas tree.
Roll trees in parsley, pressing it evenly onto trees.
Press pine nuts onto trees in string form for garland.
Press bell pepper pieces onto tree for ornaments.
Top each tree with a star shape cut from a lemon peel, if desired.
SNOWMAN CHEESE BALL
Instead of trees, make snowmen! Using the same main ingredients as in the Christmas Trees recipe, you will have enough to make 2 small snowmen or one large one. To decorate, omit the parsley, pine nuts, and bell peppers and substitute with 1/3 cup of blanched almonds.
Main Ingredients
3 packages (8 oz. each) cream cheese, softened
4 cups shredded cheddar cheese (16 oz.)
2 tablespoons pesto
1 tablespoon grated onion
1/4 teaspoon of dry ground mustard
2-or-3 drops red pepper sauce
Decoration Ingredients (have ready at serving time)
1/3 cup blanched almonds, finely chopped
Pretzel sticks
Capers
Sliced olives
Chopped carrots
Sliced cucumber
Chopped bell peppers
Fresh thyme leaves
Assorted crackers
Preparation
Shape cheese mixture into 2 balls.
Roll cheese balls in blanched almonds.
Arrange balls on a serving plate with smaller ball on top for the head of the snowman; press together slightly.
Insert pretzel sticks for arms.
Decorate as desired using capers, sliced olives, chopped carrots, sliced cucumber, chopped bell peppers, and fresh thyme leaves (as a scarf).
Timesaving Tip: This is a great do-ahead appetizer. After shaping the cheese mixture into cones (for trees) or balls (for snowmen), wrap in freezer bags, label, date, and freeze for up to 1 month. Twelve (12) hours before serving, remove the mixture from the freezer. Thaw in wrapper in the refrigerator and decorate away!
Enjoy! The only issue with these appetizers is to get your guests to cut into them....