Cinnamon Apple Baked French Toast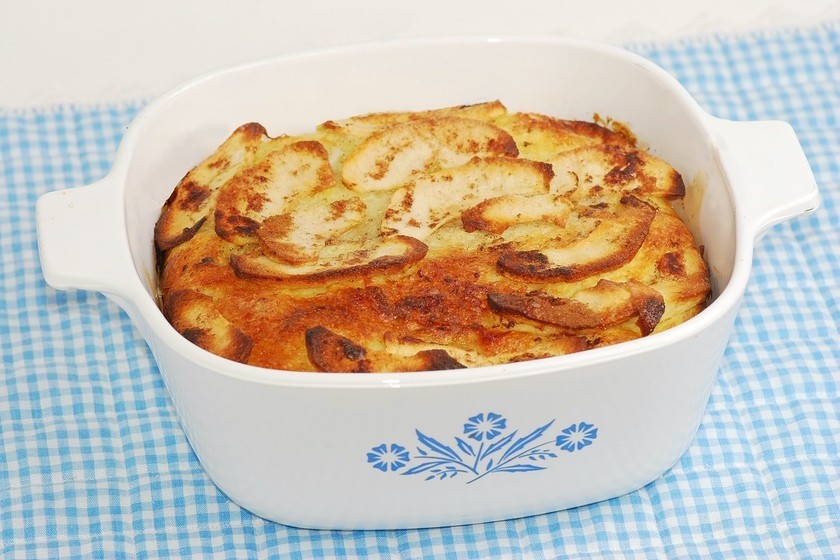 Print Friendly
Chef Roberta Blake, New England Culinary Institute (NECI)
Ingredients
1 loaf French or Italian bread
3 teaspoons cinnamon
8 large eggs
1 teaspoons nutmeg
3 1/2 cups of light cream
6-to-8 medium-sized cooking apples (McIntosh or Cortland)
1 cup sugar
1/4 stick butter
1 tablespoon vanilla
Pitcher of Vermont pure maple syrup on the side
Preparation
Slice bread into 1 1/2 inch slices.
Spray 9x13-inch glass pan with corn oil or non-stick spray.
Place bread in glass dish, fitting together tightly.
In separate bowl, beat together eggs, 1/2 cup sugar, milk, and vanilla (by hand, with whisk for about 30 seconds).
Pour 1/2 of egg-milk mixture over bread.
Peel, core, and slice apples.
Place sliced apples on top of bread to cover.
Pour balance of egg-milk mixture evenly over apples.
Mix remaining 1/2 cup sugar with cinnamon and nutmeg and sprinkle evenly over top of apples. Dot with butter.
Cover and refrigerate overnight.
Next day:
Preheat oven to 350 degrees F.
Uncover dish and bake in oven one hour. It will rise high and brown nicely.
Remove from oven and allow to rest for 5-10 minutes before serving.
Cut into squares and serve warm with maple syrup. Top with whipped cream, and garnish with a sprig of fresh mint.
Serves 8-to-10.