Cod en Papilliote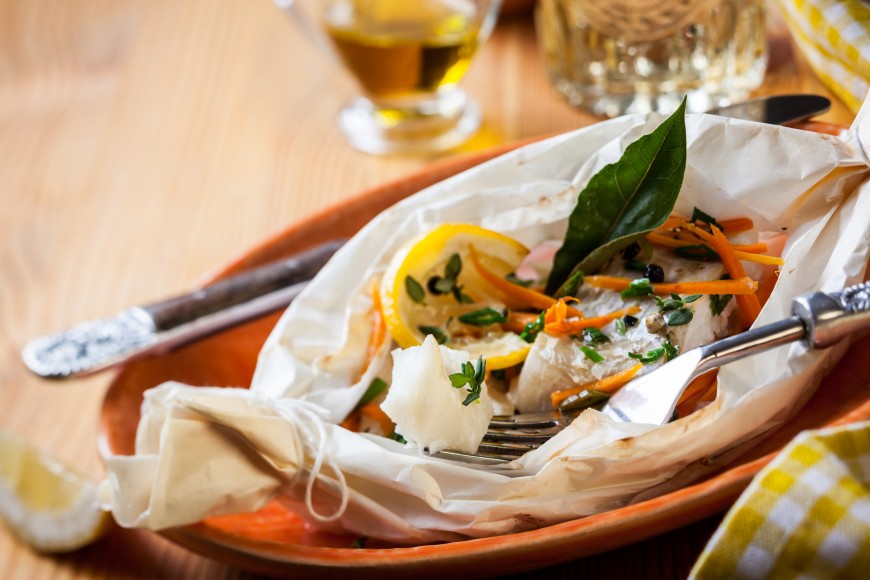 Print Friendly
Ingredients
4 six-oz. fresh cod fillets
2 carrots, julienne
1 butternut squash, julienne
1 red pepper, julienne
1 green pepper, julienne
1/2 cup white wine
4 tablespoons butter, cubed
8 sprigs fresh thyme
4 pieces parchment paper

Preparation (for one portion)
Cut one piece parchment paper into a heart shape.
Place julienne vegetables onto 1/2 of the heart. Set cod fillet on top of vegetables. Place pat of butter and two sprigs of thyme on top. Splash with white wine.
Take the other half of the heart and fold over the fish and vegetables. Roll and pinch the edges of the parchment paper together to secure.
Place fish on sheet pan in a 375 degrees F oven for approximately 8 minutes. Cut top of parchment paper open to release steam.
Eat directly out of the paper.
Nice to serve with rice or roasted potatoes.
Serves 4.
This is such an easy and flavorful way to enjoy fish. Can be prepared with salmon, snapper, striped bass, or any other favorite.