Corned Beef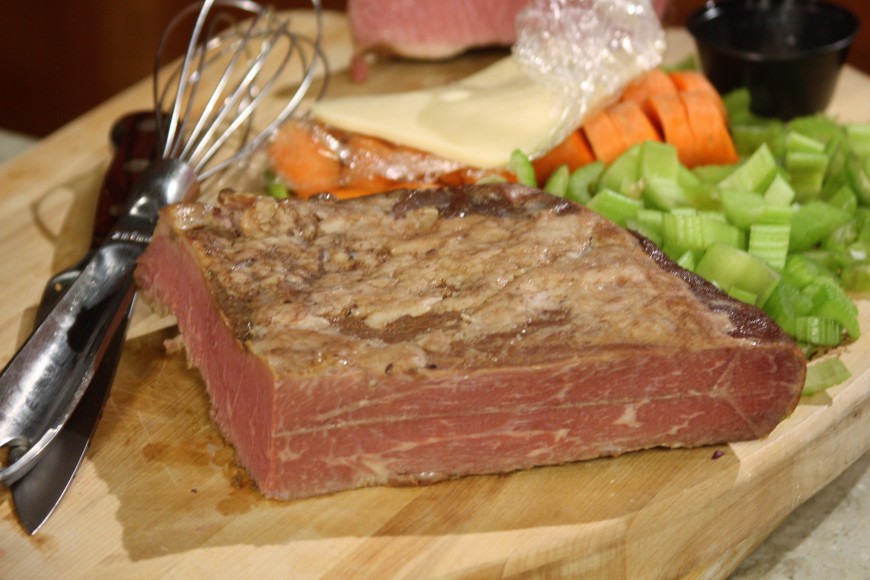 Print Friendly
Chef Stefano Coppola, Morse Block Deli
Ingredients:
6 cups water
2 bottles malty beer
1 1/2 cups kosher salt
1/2 cup brown sugar
2 Tablespoons molasses
4 teaspoons pink salt (sodium nitrate) optional
3 cloves garlic, smashed
4 Tablespoons pickling spice (see below for recipe)
1 5-pound beef brisket, trimmed of fat and muscles separated
2 bottles malty beer
1 large carrot, chopped
2 celery stalks, chopped
1 large onion, chopped
Directions:
Add everything in a pot, except brisket, and bring to a boil.
Allow to cool to room temp, place brisket in a large container, and cover with brine.
Refrigerate for 5 days, flipping every 2 days.
Pickling Spice
Ingredients:
3 tablespoons black peppercorns
2 tablespoons mustard seeds
2 tablespoons coriander seeds
2 tablespoons red pepper flakes
1 tablespoon allspice berries
10 juniper berries
2 small cinnamon sticks
2 to 4 bay leaves, crumbled
2 tablespoons whole cloves
Directions:
Remove from brine and rinse.
Place in a pot and add remaining ingredients. Top off with just enough water to cover the brisket and bring to a boil. Reduce to a simmer and cook until tender, about 3-5 hours depending on thickness.
Allow to cool in the liquid to room temp, remove, and refrigerate.