Cottage Pudding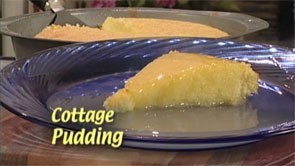 Print Friendly
One-Egg Cake Ingredients
1 1/2 cups flour (cake flour works best)
2 teaspoons baking powder
1/2 teaspoon salt
1/2 cup sugar
1 egg
1/2 cup milk
1/2 cup melted butter
Cake Preparation
Whisk together egg, milk, and melted butter. Set aside.
Sift and blend together remaining dry ingredients.
Pour wet ingredients into dry, and stir until well blended.
Pour batter into 8x8x2-inch square or 9-inch round buttered and floured cake pan.
Bake 20-to-25 minutes, or until golden brown and cake tester comes out clean.
Sauce Ingredients
2 cups water
1/2 cup sugar
1 tablespoon butter
1 tablespoon cornstarch
1/2 cup apple cider vinegar (1 teaspoon vanilla may be substituted for apple cider vinegar)
Sauce Preparation
In a small saucepan, mix 1/2 cup sugar and 1 tablespoon cornstarch. Add 1 cup boiling water stirring constantly. Boil until thickened.
Add a tablespoon at a time of apple cider vinegar (or 1 teaspoon vanilla, if using) until you reach the desired tartness.
At the end, blend in 2 tablespoons butter.