Crab Cake in Kataify Pastry with Grapefruit and Lime Vinaigrette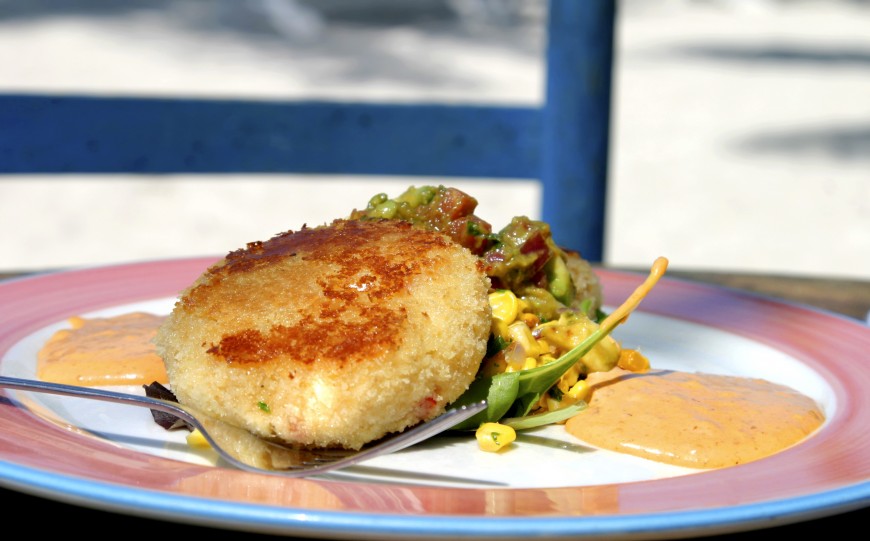 Print Friendly
Chef Lee Duberman, Ariel's Restaurant, Brookfield, Vermont
Clarified Butter
Put one pound of unsalted butter into a 2-quart saucepan. Turn on heat to medium to melt the butter.
Turn heat down to low. Let butter simmer until the white solids float to the top, leaving a clear golden liquid.
Turn off heat and let sit a few minutes. Skim solids off the top, then pour clarified butter through a fine sieve into a heat-proof container.
May be refrigerated and reheated before use.
Homemade Mayonnaise Ingredients
3 egg yolks
1 tablespoon Dijon mustard
1/2 teaspoon hot sauce, such as tabasco
2 tablespoons lemon juice
2 cups vegetable oil (soy or canola)
Mayo Preparation
Put first 4 ingredients into a Cuisinart with metal propeller blade. Cover and start machine. Let blend for a minute.
Open top hole on Cuisinart cover, and very slowly dribble in oil, about one tablespoon at a time, while Cuisinart is going. When all of the oil is in, mayonnaise should be thick and shiny.
Remove to clean container and refrigerate.
Lime Vinaigrette Ingredients
1/2 cup lime juice
1 teaspoon Dijon mustard
1/8-1/4 cup honey
1/2 bunch chopped cilantro
1 teaspoon salt
1 1/2 cup vegetable oil
Vinaigrette Preparation
Place first 5 ingredients into blender, cover, and turn blender on low speed. Blend a few seconds.
Remove cover and slowly add oil in a thin stream. Taste frequently. Add honey, salt, or more oil as needed.
Pour into a clean container.
Crab Cakes in Kataify Pastry Ingredients
1 lb. vacuum-packed, refrigerated lump or backfin crab meat
2/3 cup homemade mayonnaise
1/2 bunch chopped cilantro
1/4 small red onion, diced small
1/4 red bell pepper, diced small
1 tablespoon fresh lemon juice
Salt and pepper, to taste
Crab Cakes Preparation
Mix all ingredients gently, so as not to break up crab too much.
On clean table, or large cutting board, lay out 1/2 lb. Kataify pastry (available at coops by special order).
Have 1 cup clarified butter warmed, with a pastry brush available.
Divide Kataify into 8 portions, each approx. 6-inches long by 3-inches wide, one layer only.
Brush Kataify with good amount of clarified butter.
Measure 1/3 cup of filling and place on center of buttered Kataify. Bring up sides of Kataify and roll into a ball, making sure all filling is enclosed in pastry. Repeat with rest of pastry and filling.
Place crab cakes on cookie sheet and refrigerate until time to serve.
To serve, heat sauté pan large enough to hold four crab cakes, with about one tablespoon of clarified butter. When hot, but not smoking, add crab cakes.
Sauté until first side is golden. Gently turn and sauté other side until golden. Repeat with rest of crab cakes.
Serve one crab cake on a bed of arugula or mesclun. Arrange 3 grapefruit sections around crab cake. Drizzle with Lime Vinaigrette.
Serves 8.