Crab Cakes with Dipping Sauce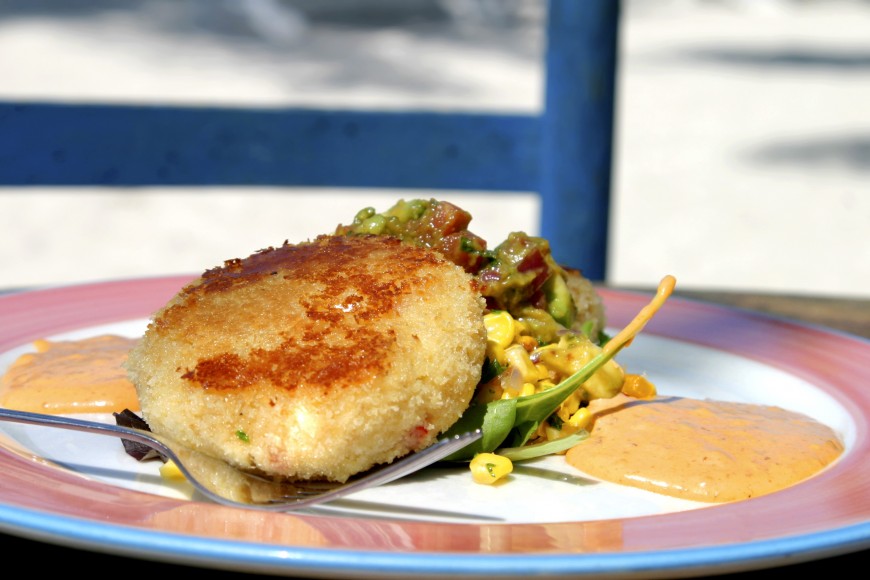 Print Friendly
Trina and Meggen Beaulier, Simply Divine, Brunswick, Maine
Ingredients
1 pound fresh crabmeat
2 eggs
2 tablespoons chopped scallions
1/4 teaspoon freshly ground pepper
1/2 teaspoon kosher salt
2 beaten eggs
3 cups Panko crumbs
5 tablespoons of olive oil
Preparation
Whisk together the eggs, scallions, pepper, and salt. Add the crabmeat, and stir to combine.
Shape the mixture into 24 small patties, each a heaping tablespoon. Place on a cookie sheet covered with waxed paper and refrigerate for 1 hour.
Whisk the 2 eggs in a shallow bowl. Place Panko crumbs in a glass pie plate. Dip each crab cake in the egg and then the Panko crumbs, coating completely.
Heat the olive oil on a griddle. Cook the crab cakes until nicely browned. Turn and cook until golden brown. Drain on a paper towel.
If you are not serving immediately, store on a cookie sheet and cover with Saran wrap. Reheat for 5 minutes in a 375 degree F oven.
Crab Cake Dipping Sauce
1 cup Hellmann's mayonnaise
1/4 cup fresh dill, chopped
1/4 cup fresh chives, chopped
1/4 teaspoon Kosher salt
1/4 teaspoon garlic powder.
Crab Cake Dipping Sauce Preparation
Pulse in food processor until smooth. Refrigerate until serving.
Cocktail Sauce Ingredients
1 cup tomato sauce
1 1/2 cups Heinz ketchup
2 tablespoons freshly squeezed lemon juice
2 tablespoons Worcestershire sauce
1 tablespoon horseradish
1 tablespoon diced garlic
Freshly ground pepper and kosher salt, to taste.
Cocktail Sauce Preparation
In a large bowl, combine ketchup, lemon juice, Worcestershire sauce, and horseradish. Use a whisk to blend until all ingredients are well incorporated. Add seasonings, and blend.
Cover and refrigerate overnight before serving.