Crab Cakes with Homemade Mayo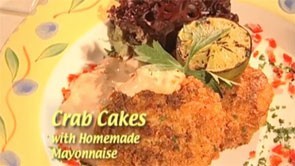 Print Friendly
Homemade Mayonnaise Ingredients
1/2 teaspoon dry mustard
1/4 teaspoon salt
1/4 teaspoon paprika
1/8 teaspoon ground red pepper
2 egg yolks
2 tablespoons fresh lemon juice
Cayenne pepper, to taste
2 cups extra virgin olive oil
2 tablespoons capers
Mayo Preparation
In a food processor bowl, combine all above ingredients, except extra virgin olive oil. Process until combined.
With food processor running, add extra virgin olive oil in a thin steady stream. If necessary, stop process and use a rubber spatula to scrape sides.
Cover and store in refrigerator up to two weeks.
Dress mayonnaise with a few thinly sliced green onions.
Makes about 2 cups.
Crab Cakes Ingredients
1 pound crab meat
1/4 cup mayonnaise
1/2 cup unsalted saltines, crushed
1 egg white
1 teaspoon Old Bay Seasoning
1 teaspoon Worcestershire sauce
1 teaspoon dry mustard
Oil
Crab Cakes Preparation
In mixing bowl, combine the mayonnaise, Old Bay Seasoning, Worcestershire sauce, and dry mustard. Add the crab meat, and egg white, mix well.
Take a heaping teaspoon of mixture and roll into a ball. Flatten ball on the top and bottom. Roll in cracker crumbs.
Put in deep fryer and cook about 2 minutes, until nice and golden brown.
If you don't have a deep fryer, shape the mixture into balls. Roll in cracker crumbs. Place the crab cakes in the freezer for about an hour (chilling will prevent the crab cakes from coming apart during cooking).
Pan fry the crab cakes in oil until both sides are golden brown.