Crab Cakes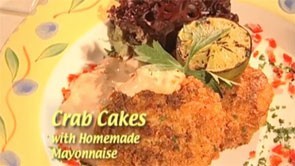 Print Friendly
Ingredients
1 pound crab meat
1/4 cup mayonnaise
1/2 cup unsalted saltines, crushed
1 egg white
1 teaspoon Old Bay Seasoning
1 teaspoon Worcestershire sauce
1 teaspoon dry mustard
Canola oil
Preparation
In mixing bowl, combine the mayonnaise, Old Bay Seasoning, Worcestershire sauce, and dry mustard. Add the crab meat and egg white, and mix well.
Take a heaping teaspoon of mixture, and roll into a ball. Flatten ball on the top and bottom. Roll in cracker crumbs.
Put in deep fryer, and cook about 2 minutes, until golden brown. If you don't have a deep fryer, shape the mixture into balls, roll in cracker crumbs, place the crab cakes in the freezer for about an hour (chilling will prevent the crab cakes from coming apart during cooking), and pan fry the crab cakes in oil, until both sides are golden brown.
Can be made appetizer size.
Serve with tartar or chili sauce.