Crab Louis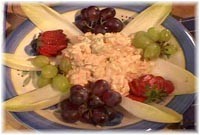 Print Friendly
Ingredients
8 oz. crabmeat
1 cup mayonnaise
1/4 cup heavy cream
1/4 cup chili sauce
1 teaspoon Worcestershire sauce
1/4 cup chopped green pepper
1/4 cup chopped green onion
2 tablespoons lemon juice
Dash of Tabasco sauce
Salt and pepper, to taste
Preparation
Put the mayonnaise in a mixing bowl.
Fold the heavy cream, chili sauce, Worcestershire sauce, green pepper, green onion, lemon juice, Tabasco Sauce, salt, and pepper into the mayonnaise. Make sure everything is mixed together, making a sauce.
Drain the crab meat, and place in different mixing bowl. Slowly add sauce to the crabmeat, tossing lightly so the crabmeat is evenly coated.
Place on plate with endive lettuce, grapes, and strawberries.