Cranberry Orange Quickbread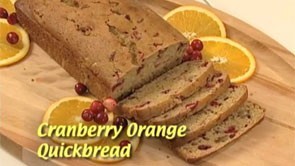 Print Friendly
Ingredients
1 cup all purpose flour
1 cup whole wheat flour
1/4 teaspoon salt
1/2 teaspoon baking soda
1 cup orange juice
1 orange zested, with juice
2 tablespoons vegetable oil
3/4 cup sugar
1 egg
1 cup cranberries, coarsely chopped
1/4 cup toasted and chopped walnuts (optional)
Preparation
Grease a 9 X 5" loaf pan with wax paper inside.
Combine flours, sugar, and baking soda. Stir to mix and set aside.
In large bowl, combine orange juice, oil, sugar, and egg. Beat with mixer.
Slowly add dry ingredients and stir in orange zest and cranberries.
Pour in loaf pan and bake at 325 degrees F for 60-65 minutes, or until a toothpick comes out clean.
Turn out onto wire rack to cool.
Note: Quickbread is bread that is quick to make because it doesn't require kneading or rising. The leavener is baking soda or baking powder. Biscuits, popovers, and muffins are all good examples.