Cream Soup of White Asparagus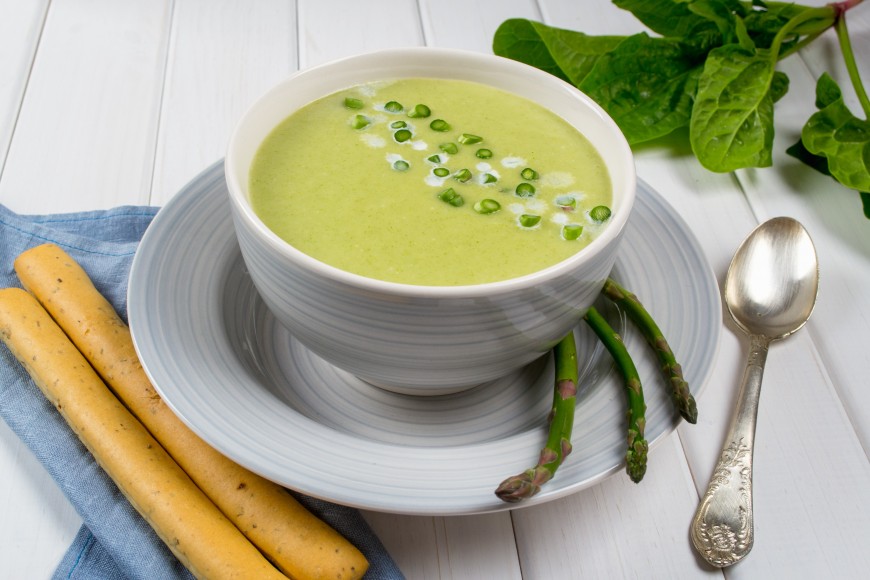 Print Friendly
Jurgen Spagolla, Executive Chef Trapp Family Lodge, Stowe, Vermont
Ingredients
1 lb. of white Asparagus
1 quart water
1 slice of lemon
1 cup heavy cream
1 tablespoon butter
1 tablespoon flour
Salt and white pepper, to taste
Bouillon powder for taste
Pinch of sugar
Chopped parsley for garnish
Preparation
You must peel the white asparagus and trim the more fibrous butt ends. Trim off 1/2-inch from butts of asparagus. Then, with spears laying on a cutting board, using a vegetable peeler, peel off thin skin starting 1 1/2 inches from the top of each spear.
Place all peelings and trimmings in a soup pot with 1 quart of water, slice of lemon, and a pinch of sugar. Bring the liquid to a boil, turn down the heat, and simmer for 15 minutes.
Strain the asparagus stock into a shallow large sauté pan. Place all the peeled asparagus in the pan with the stock and simmer for about 10 minutes until asparagus is soft.
Lift asparagus into a plate and let it asparagus and stock cool.
Melt butter in a medium-size soup pot over medium heat, stir in flour and make a roux.
Deglaze with the asparagus stock and season with pinch of bouillon powder, salt, and white pepper.
Add the heavy cream and simmer the soup for about 20 minutes.
Meanwhile, cut asparagus up into small pieces. Add the asparagus pieces to the soup and serve with some fresh chopped parsley.
Serves 4.
Serve with Chef Jurgen's White Asparagus and Crab Salad.
"SPARGELSALAT MIT CRABBENFLEISH" DRESSING
Ingredients
2 tablespoons olive oil
2 tablespoons rice vinegar
2 teaspoon sugar
1 tablespoon orange juice concentrate
1 tablespoon lime juice
1 tablespoon sesame oil
1 tablespoon of chopped scallions
1 tablespoon of basil
Preparation
Combine all ingredients; mix well. Set aside.
Salad
2 cups cut-up fresh white asparagus
12 oz. crab meat
10 oz. bag lettuce
1 cup of 1/2-inch pieces cantaloupe
1 cup sliced seedless cucumber
Preparation
Steam until tender-crisp. Drain and let cool.
Cut crab into bite size pieces.
Combine asparagus and crab in a large bowl; add lettuce mix, cantaloupe, and cucumber. Toss gently.
Pour salad dressing over all. Toss to evenly coat.
Serve immediately.
Serves 4-6.
Note: Substitute 1 1/2 cups cubed, cooked chicken for the crab, if desired.