Crostini ai Funghi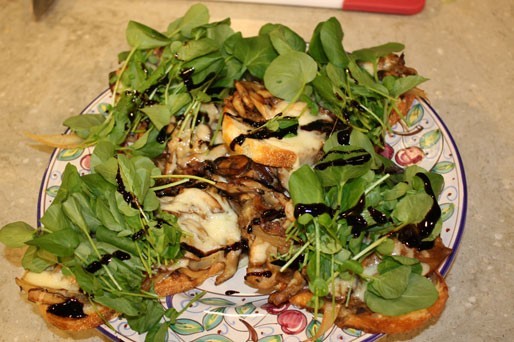 Print Friendly
Samuel S. Palmisano, Chef/Owner, Pulcinella's, South Burlington, Vermont
Mushroom Sauce Ingredients
1/2 oz. dried porcini mushrooms
1 cup boiling water
4 oz. sliced gourmet mushrooms
3 1/2 oz. sliced shiitake mushrooms
6 tablespoons unsalted butter
2 tablespoons Marsala wine
2 cups julienne onions
1 cup heavy cream
1 teaspoon chopped garlic
2 tablespoons chopped Italian parsley
Salt and pepper, to taste
Mushroom Sauce Preparation
Soak porcini mushrooms in the boiling water for 30 minutes. Once porcinis have been soaked, continue below.
In a large sauté pan set over high heat, add 2 tablespoons of butter. Once butter is just melted, add the sliced gourmet mushrooms to the pan in a single layer and stir once. Leave mushrooms in pan without disturbing, until you can see them golden brown on the bottom. Season the mushrooms with a little salt and pepper, and stir quickly. Remove mushrooms from pan and keep warm.
Place pan back on burner set on high heat and repeat the above procedure with the shiitake mushrooms. When the shiitakes have been removed, place the pan back on the burner, add the remaining 2 tablespoons of butter, and stir in the garlic and julienne onions. Sauté for 2 minutes. Deglaze the pan with the Marsala wine. Add the porcini mushrooms and the broth. Cook over high heat until broth is reduced by three-quarters. Stir in the reserved sautéed mushrooms and the heavy cream. Season with a little salt and pepper. Reduce heavy cream by one-half, correct seasoning, and stir in parsley. Remove from heat and hold.
Crostini Ingredients
6 tablespoons extra virgin olive oil
1 teaspoon chopped garlic
1 teaspoon salt
1 teaspoon oregano
1 teaspoon pepper
1 tablespoon chopped Italian parsley
1/4 teaspoon red pepper flakes
4 slices of Rosemary Olive Oil Bread Boule
Crostini Preparation
In a sauté pan over low heat, add the garlic, olive oil, and seasonings. Stir while heating until you can smell the garlic. Remove from heat and pour infused oil into a small bowl.
With a pastry, grill, or basting brush, lightly brush both sides of each of the Boule slices with the infused oil.
Bake, toast, toaster oven, or sauté the crostini until golden brown on both sides.
Assembly Ingredients
1 bunch Upland cress
4 tablespoons balsamic glaze
4 oz. Fontina cheese, shredded
Assembly
Preheat an oven, toaster oven, broiler, or grill to 400 degrees F. Place the crostini on a baking pan. Top each crostini with 1/4 of the mushroom sauce. Sprinkle the top of each crostini with the shredded Fontina. Bake or broil until the cheese is melted and bubbly.
To serve, place a crostini on each plate or together on a platter. Top 1/4 of each crostini with a little of the Upland cress, and drizzle them with a little bit of the balsamic glaze.
Buon Appetito!
Serves 4.