Diabetic Fudge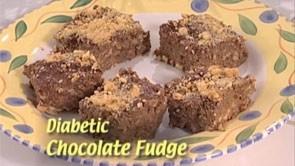 Print Friendly
Ingredients
14 oz. evaporated milk
3 tablespoon cocoa powder
1/4 cup lowfat margarine
1 tablespoon liquid artificial sweetener
1/4 teaspoon salt
1 teaspoon vanilla
3 cups graham cracker crumbs
1/2 cup chopped walnuts or pecans
Preparation
Break up graham crackers into food processor bowl and pulse on low until desired consistency for crumbs.
Combine milk and cocoa in large stainless steel saucepan. Mix well with wire whisk.
Add margarine, sweetener, and salt. Bring to boil over medium-low heat. Cook for about 1 minute, keeping chocolate mixture at a very low boil. Remove from heat.
Stir in remaining ingredients, reserving 1/2 cup graham cracker crumbs. Cool about 15 minutes.
Roll mixture into small balls.
Roll balls in remaining graham cracker crumbs, and chill.
Although this recipe is sugar free, diabetics should check carbohydrates.