Farro Risotto with Porcini Mushrooms & Hazlenut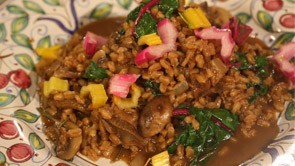 Print Friendly
Chef Kevin Lasko, Vermont Farms Catering
Ingredients
1/2 cup dried Porcini mushrooms
1 quart chicken stock
1 1/2 cup farro, soaked overnight
2 tablespoon olive oil
1 onion, finely chopped
1 lb. Cremini mushrooms, sliced
2 cloves garlic on microplane
2 sprigs of rosemary
1/2 cup white wine
1 bunch Swiss chard, chiffonade
Toasted hazlenuts
Preparation
Pour 1 cup of boiling water over porcini mushrooms to rehydrate. Drain, and finely chop mushrooms.
Sweat out onions and garlic in olive oil, add mushrooms and cook down.
Add farro and toast, deglaze with wine.
Add in chicken stock and cook until tender, adding more water if necessary.
Add in Swiss chard.
Garnish with cheese.