Five Spice Biscotti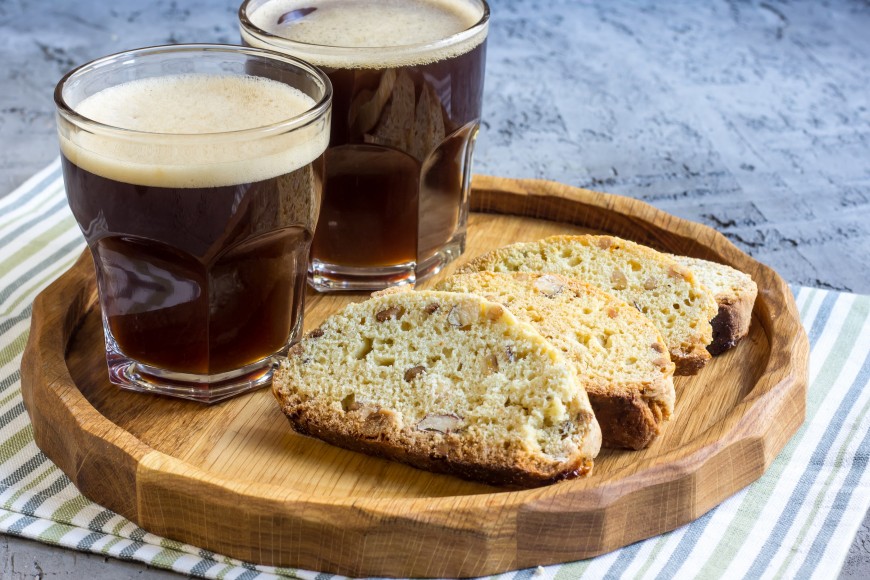 Print Friendly
Ingredients
3 eggs
1 cup sugar
2 teaspoons five spice, cinnamon, ginger, star anise, anise, nutmeg
1/4 teaspoon nutmeg
1/2 cup butter, melted
3 1/3 cup King Arthur flour
1 teaspoon baking powder
1/2 teaspoon baking soda
1/2 teaspoon salt
1/2 cup sliced almonds
Preparation
Preheat oven to 350 degrees F. Grease 2 sheet pans.
In medium bowl, mix the eggs, sugar, and five spices.
In separate bowl, mix additional nutmeg, flour, baking powder, baking soda, and salt.
Add 1/2 dry mixture to egg mixture and stir.
Add the rest of the dry ingredients and stir until it forms into dough.
Place 1/2 the dough on a cookie sheet and form into a log 8-inches long and 5-inches wide.
Bake 35 minutes.
While logs are still warm, cut into 1/2-inch thick slices.
Lay slices on sheet pan on their sides.
Bake 15 minutes longer.
Remove from oven and cool.
Repeat with other half of dough.
Store in air-tight container for up to 3 weeks.