Lentil Soup with Beef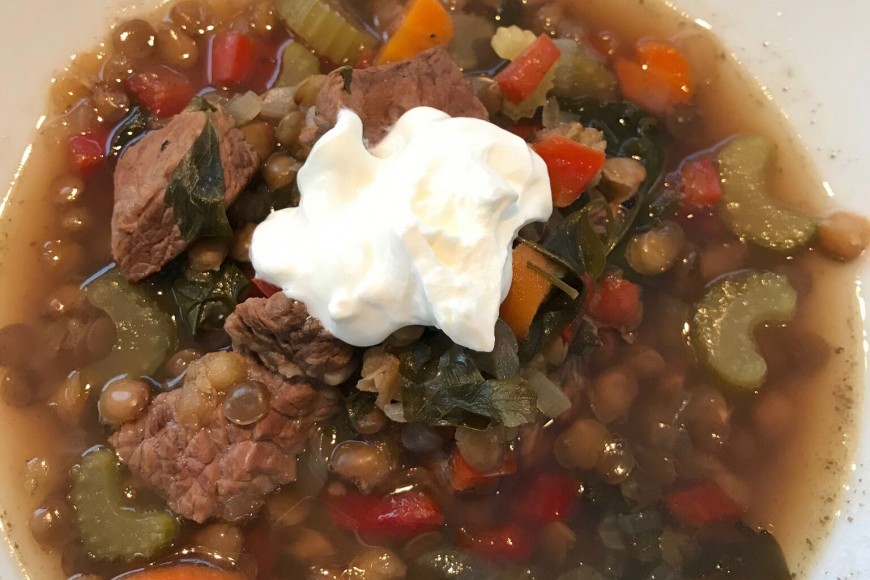 Print Friendly

Ingredients
1 pound boneless beef sirloin steak
4 cups reduced-sodium beef broth
1 cup lentils, rinsed and drained
1 cup water
3/4 cup red sweet pepper, coarsely chopped
1/2 cup onion, chopped
1/2 cup carrot, sliced
1/2 cup celery, sliced
2 cloves garlic, minced
1 teaspoon ground cumin
1/4 teaspoon cayenne pepper
1/3 cup snipped fresh parsley
Dollop of sour cream (optional)
Preparation
Trim fat from meat and cut into 3/4-inch pieces.
For a richer soup, cook beef in a nonstick skillet over medium-high heat until browned or lightly browned, otherwise, use uncooked meat.
Place in a 3 1/2-or-4-quart slow cooker.
Stir in broth, lentils, water, sweet pepper, onion, carrot, celery, garlic, cumin, and cayenne.
Cover and cook on HIGH for 3 1/2-to-4 hours, or on LOW for 7-to-8 hours.
Stir in parsley.
Ladle soup into bowls topped with an optional dollop of sour cream.
Prep time: 25 minutes. Cook time between 3 1/2-to-8 hours, depending upon which cooking temperature is selected.