French Apple Cobbler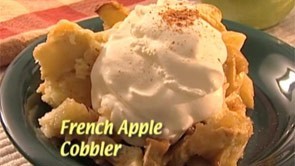 Print Friendly
Chef Roberta Blake, New England Culinary Institute (NECI)
Filling Ingredients
5 cups peeled, sliced, tart apples
3/4 cup brown sugar
2 tablespoons flour
1/2 teaspoon cinnamon
1/4 teaspoon salt
1 teaspoon vanilla extract
1 tablespoon soft butter
1/4 cup water
Batter Ingredients
1/2 cup flour
1/2 cup sugar
1/2 teaspoon baking powder
Pinch of salt (optional)
2 tablespoons soft butter
1 egg, beaten slightly
Preparation
Preheat oven to 375 degrees F.
Lightly coat a 9x9x13-inch baking pan with a non-stick spray.
Toss all filling ingredients, except butter, together. Place in pan, add 1/4 cup water, and dot with butter.
Mix all batter ingredients together, beat until smooth.
Using a serving spoon, drop batter in 9 even portions over the apple mix.
Bake 35-to-40 minutes.
Serve with fresh cream or ice cream.