Gazpacho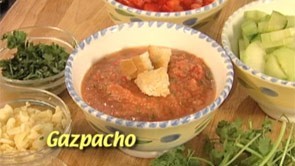 Print Friendly
Chef Will Bohmann, New England Culinary Institute

Ingredients
8 vine ripe tomatoes
1 large cucumber, halved and seeded (English cucumber is best because of fewer seeds)
2 red bell peppers, no seeds
1 red onion
4 garlic cloves, minced
3 cups tomato juice, look for the low sodium (do not use V-8, that's vegetable juice)
1/2 teaspoon red pepper flakes
1/4 cup red wine vinegar
1/4 cup extra virgin olive oil
1/4 cup chopped cilantro
Salt and fresh cracked black pepper
Preparation
Rough chop all ingredients and place in tall container.
Add vinegar, oil, tomato juice, cilantro, red pepper flakes, salt, and pepper.
Using a stick processor, blend all ingredients till somewhat chunky.
Mix well and chill before serving.
Serves 4-6.
An easy soup to impress your friends, or better yet to enjoy on those oppressively hot summer days.