Granola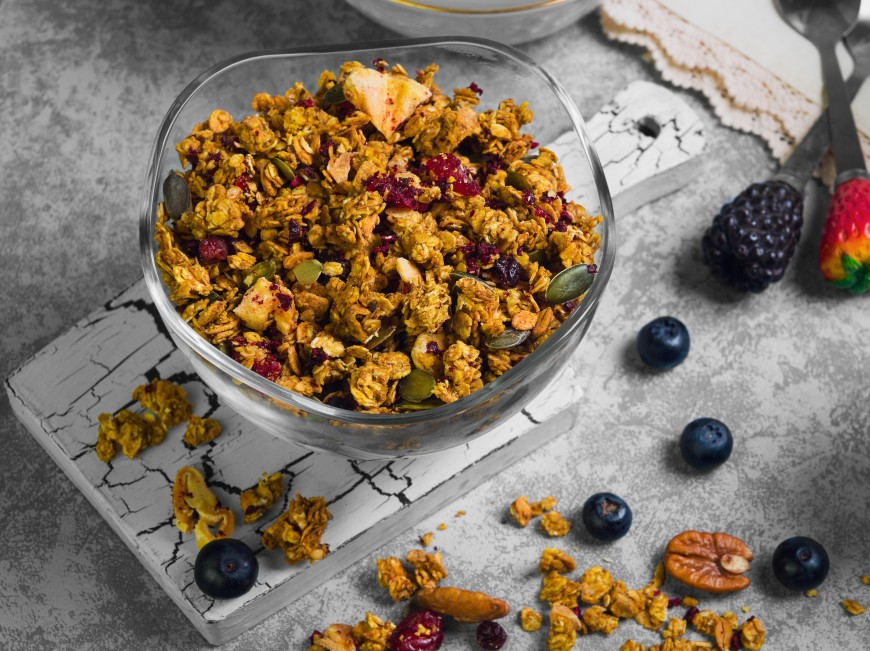 Print Friendly
Blueberry Hill Inn, Goshen, Vermont
Ingredients
2 quarts rolled oats
2 cups each sesame seeds, sunflower seeds, sliced almonds, and/or chopped walnuts
1-to-2 cups dark brown sugar, depending on desired sweetness
1 tablespoon cinnamon
1 tablespoon nutmeg
1 cup wheat germ
1/2 pound butter melted
1 tablespoon vanilla extract
2 cups raisins (optional)
Preparation
Preheat the oven to 350 degrees F.
In a large bowl, mix together all the dry ingredients except the raisins.
Pour on the melted butter and the vanilla and continue to stir until everything is well blended.
Transfer granola to two large cookie sheets or shallow baking pans and spread evenly.
Toast granola for 45 minutes, stirring every 15 minutes.
Turn off oven and let granola cool in the oven with the door open.
When cool, stir in the raisins (if you are using raisins).
Put in an airtight container to store.
Makes about 18 cups.