Grape-Stuffed Duck Breast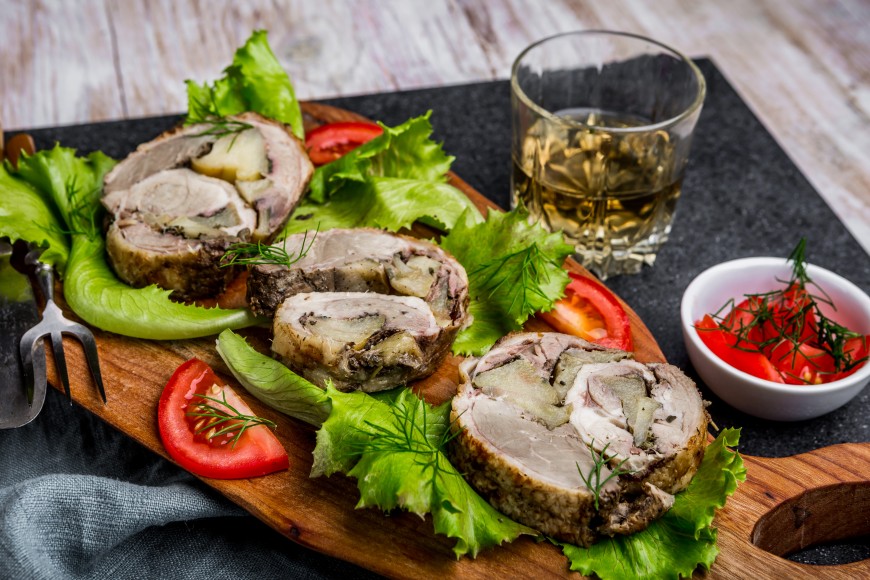 Print Friendly
Sheila Meader, Auburn, Maine
New England Cooks Holiday Recipe Contest Winner, Meat and Poultry Category
Ingredients
4 whole boned duck breasts
1 tablespoon kosher salt
4 grinds black pepper
3 tablespoons Shaw's butter
1 small onion, chopped fine
1/2 cup peeled, chopped broccoli stalks
2 tablespoons chopped parsley
3 cups toasted or dry bread cubes
3/4 teaspoon thyme
1 cup seedless high-flavor blue or purple grapes, sliced
1 cup Shaw's chicken stock or duck stock
1/2 cup water
Preparation
Rinse breasts in cold water and pat dry. Rub inside with salt and pepper.
Sauté onion, broccoli, and parsley in butter until crispy tender, but not brown.
Toss bread cubes, thyme, and grapes into butter, and stir to coat.
Add 1/4-to-1/3 cup chicken or duck stock.
Divide grape stuffing among breasts and skewer or tie with string.
Roast at 325 degrees F for 1 1/2 hours on rack over oven pan, turning once.
When duck is tender, pour grease from pan and zap breasts under broiler to crisp skin.
To serve, cut breasts in half or thirds.
Make gravy by deglazing pan with remaining stock and 1/2 cup water. Thicken and sieve.
Serve with onions baked in milk and steamed blue Hubbard squash with butter, honey, and dill.
Makes 6-8 servings.

Thanks to Sheila for this delicious, alternative holiday recipe. Sheila has won a Keurig Single Cup Coffee Brewer and a one year supply of K-cups from Green Mountain Coffee Roasters. Congratulations!